Humpback whale's death by entanglement 'particularly grim'
By
Cheryl Peebles
April 29 2019, 7.48am
Updated: April 29 2019, 10.27am
The death of a humpback whale which was entangled in fishing gear has prompted a call for action by a marine wildlife expert.
The huge animal spent its final agonising days in the Firth of Forth, with rope cutting into its blubber and riddled with parasites, before its carcass was washed up on an East Lothian beach.
Dr Andrew Brownlow, of the Scottish Marine Animal Stranding Scheme, said the 30ft long male would have been entangled for weeks if not months, leaving it unable to feed properly.
He said urgent discussion was vital to prevent more marine life suffering as a result of human activity.
The veterinary pathologist's post mortem found chronic lacerations with severe infection and a very high parasite burden in the whale which drowned either through exhaustion or further entanglement.
The emaciated year-old whale was first spotted from Kinghorn at the end of February with the gear dragging behind it.
Volunteers from the British Divers Marine Life Rescue hoped they may be able to release the mammal, but were unable to locate it and get close enough.
Dr Brownlow said: "We deal with a lot of cases like this, but this one was particularly grim.
"We could see that this animal had suffered for a long time."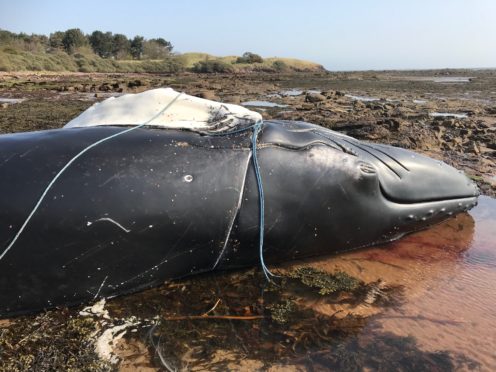 He said it was important not to blame fishermen for such tragedies, and that marine life was at risk from humans in many ways, including pollution.
He said: "The thing we can probably take from this is that the population of these really big whales is perhaps recovering in Scottish waters.
"There's been a moratorium on whaling since the mid-1980s. Thirty years on we are seeing these animals coming back into our waters, which are common by ecological history but not in our collective memory.
"This presents some other challenges. Although we are not going out and deliberately trying to kill these animals we are making the oceans a more hazardous place for them in a number of ways, from pollution to interaction with fishing and noise."
In this case, he said the issues seemed to have arisen as a result of the interaction between fishing, most likely creel fishing, and animals.
"There needs to be a discussion about how we try to address this," he added.
"It doesn't help saying it's all the fishermen's fault. They don't want to entangle whales any more than anyone else does."
He said the next stage would be work by the Scottish Entanglement Alliance, which includes the SMASS, rescue charities, the fishing industry and NGOs, to look at the fishing gear involved and learn lessons.
After being found drowned on a beach near Tyninghame on Tuesday, the carcass was towed out to sea and moved to a Dunbar beach for a five-hour examination on Wednesday.
It was later removed for incineration by East Lothian Council.