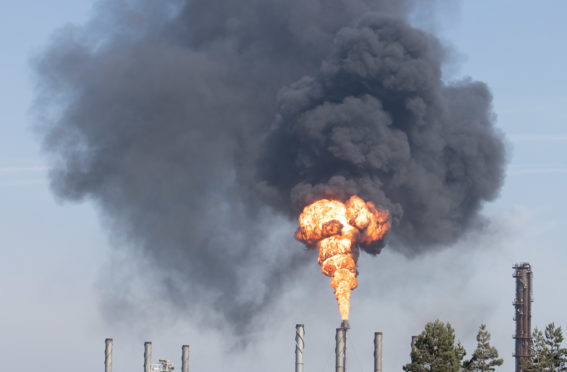 The Scottish Greens have called for Mossmorran to be closed down.
Amid claims operators were not prepared to invest in the ageing site, Mid Scotland and Fife MSP Mark Ruskell called on Environment Secretary Roseanna Cunningham to begin planning now for the long-term closure of the beleaguered plant.
He is also asking her to ensure a "just transition" so no workers are left behind during the process of the plant's closure.
However, the Scottish Government made it clear it does not have the power to close the site.
The Greens' call comes following another six-day spell of unplanned flaring at Fife Ethylene Plant run by ExxonMobil.
The incident, which started on Easter Sunday, brought disruption for the local community and resulted in an unprecedented number of complaints being submitted to the Scottish Environment Protection Agency.
"There's no sign from Mossmorran's owners that they are prepared to invest to give the plant a future, so it's becoming increasingly clear that it will need to shut down," Mr Ruskell said.
"A study into health impacts is important and despite commitments given to me from the Public Health Minister we see no progress.
"However, continuing to stare at the problems Mossmorran creates doesn't deal with the solution."
He said lessons needed to be learned from the the closure of Longannet.
When the power station closed 230 direct jobs were wiped out, as well as an estimated 1,000 indirect jobs, at a cost of £50 million a year to the local economy.
Mr Ruskell said a long term plan to shut the site needed to be started now, "ensuring that no workers at the plant are left behind".
"The Just Transition Commission has been set up specifically to deal with these difficult long term questions about how changes can take place and should be brought in to discuss a future plan with unions, communities and the plant operators," he added.
Stuart Neill, external affairs manager at ExxonMobil Fife Ethylene Plant, said the firm would welcome the opportunity for an informed discussion on the points the MSP has raised.
"Only last week, we shared directly with Mr Ruskell our planned multi-million-pound investment programme that will work to further minimise the frequency and impact of unplanned flaring.
"This is in addition to investments in maintenance and modernisation totalling over £100m in the last five years alone.
"We, again, invite Mr Ruskell to visit the plant to better understand not only our operations, but also the vital economic and employment benefits we bring to communities in Fife."
A Scottish Government spokesperson said: "The Scottish Government does not have the power to close Mossmorran."