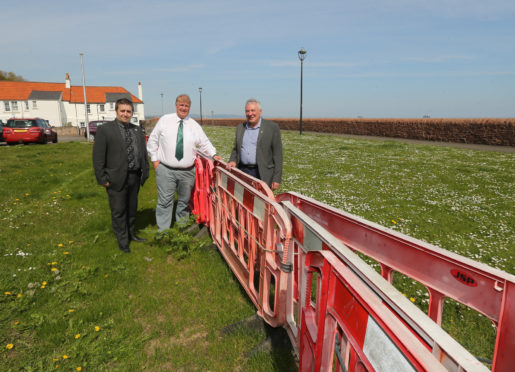 An old sea wall on the edge of a Fife conservation area is to be repaired more than two years after it was badly damaged by erosion.
A significant length of the Happies Close wall in West Wemyss was removed by Fife Council last year after a safety inspection found it posed a potential risk to residents and coastal path walkers.
Local people have been calling for it to be replaced in a bid to retain a vital feature of the former fishing village.
Members of Fife Council's Levenmouth area committee approved £15,000 of funding towards the £25,700 total cost of the work this week.
The rest of the money will be sought from other council departments.
The wall is thought to have been built around 200 years ago and formed the settlement's primary sea defence until the 1990s when significant reinforcements were created, in the form of a new sea wall augmented by rock armour.
Fife Council's Levenmouth area manager Dave Paterson said residents began warning of significant movements at parts of the wall in 2017.
The worst affected areas were sealed off with barriers as council officers agreed to keep an eye on the situation.
"By 2018 concerns were again raised by local residents that there had been further spalling of stone work and the wall was potentially a safety hazard for users of the green space and car park which it bordered," said Mr Paterson.
"It was deemed to be in a problematic condition and did present and potential risk to local residents and users of the coastal path.
"The decision was therefore taken to take out a significant length of the wall to ensure safety."
Committee convener, SNP councillor Ken Caldwell, said: "By re-instating this secondary sea defence wall the surrounding properties will be less exposed."
In 2016, plans to remove a dangerous sandstone cliff at the other end of the village were approved by the council.
However, the move hinges on the creation and sale of 42 houses to pay for the major engineering works needed.