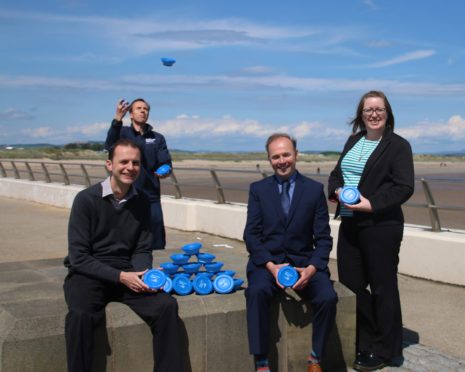 The sewer system in St Andrews has shed 160 tonnes of ugly fat following a partnership between local food firms and Scottish Water.
A drive to reduce the amount of fats, oils and grease (known as FOG) going into the network in the Fife towns is responsible for the dramatic weight loss – the equivalent of 28 adult elephants.
Water company workers visited 172 premises, including restaurants, cafés, hotels, fast food outlets, academic institutions, supermarkets, and nursing homes, as part of the campaign.
Staff were given advice on best practice and 119 new or bigger grease traps, which stop FOG from going into the sewers and causing fatbergs, were fitted.
Scottish Water worked with environmental inspectors from Environmental Compliance and Services (ECAS) on the effort. It proved so successful it was expanded to include a number of firms in Cupar and the Quayside in Dundee.
ECAS says the upgrades will keep 140 tonnes of FOG out of St Andrews sewers in the first year and every year after, preventing blockages, flooding and environmental harm.
Scottish Water also carried out a six-week deep clean of the sewers in the town's main streets, during which 20 tonnes of FOG was vacuumed out using specialist equipment.
Mike Will, waste water operations general manager at Scottish Water, paid tribute to all of the firms which had taken part in the campaign since its launch last September.
"Collectively, businesses spent around £500,000 fitting new or bigger grease trapping equipment. That highlights just how much they care for their community," he said.
To mark the achievement, and celebrate World Oceans Day, Scottish Water handed out gunk pots to members of the public in St Andrews on Friday to encourage them to play their part in the disposal of  waste fats, oils and grease from their kitchens.
Philip Soden, managing director of ECAS, said: "Most people simply didn't realise their own actions could potentially lead to sewer flooding, causing irreparable damage to their own community."
Businesses which helped promote the campaign included award-winning fish and chip shop Cromars which offered fat-free fish for a day. Owner Wendy Frame said: "I think it's brilliant so many food establishments took part. For us it was reassuring to know we were disposing of our grease in the right way – but we also discovered we could do more and are now doing so."
Stephen Gethins, SNP MP for North East Fife, who attended the launch of the pilot programme in September, said: "This has been a great initiative with real benefits for the town and local businesses."
Following the success of the St Andrews Drains on a Diet drive Scottish Water is looking at other areas to carry out more proactive FOG-fighting work.