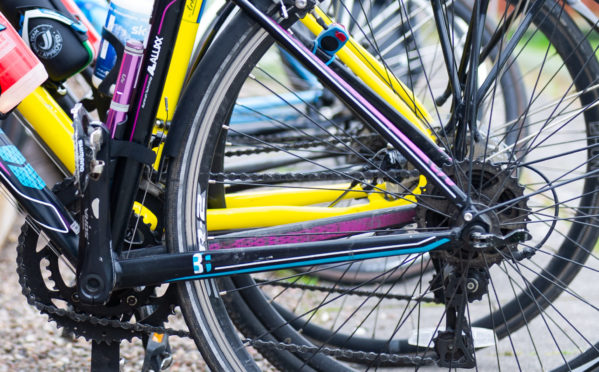 A warning was issued to cyclists after a wire was spotted strung between trees by a Fife woodland trail.
It was feared a biker could have been seriously injured or killed if they had struck the wire in Braefoot Woods, near Dalgety Bay, at speed.
Police Scotland has confirmed it is investigating the incident.
Jo Berrie spotted the wire while she was out walking with her family and dog and quickly removed it before someone was hurt.
She said: "It was so dangerous, it could have killed someone."
Cyclists have been decapitated in horrific accidents caused by wires strung between trees or posts at neck height.
Less than a fortnight ago a cyclist in Swansea told how he was flung from his bike and injured by fishing braid strung between trees on a cycle path.
He was hit in the chest but warned a child would have been struck on the neck.
The forest by Braefoot Bay, which has a network of paths and trails between Dalgety Bay and Aberdour, is popular for off-road cycling.
The wire found there last Saturday afternoon was just off the trail by the First World War battery.
However Jo, of Dalgety Bay, said a biker could have hit it if two were pedalling along together.
She said: "Some of them come down there on bikes at some speed."
Urging off-road cyclists using the area to check their route on foot before riding to ensure there is no similar obstacle, she said: "It's really worrying.
"What kind of individual would do something like that? It's disgusting."
As well as removing the wire, Jo told police about the incident.
A Police Scotland spokesperson confirmed that they had received a report and were looking into it.
He said: "Our enquiries are ongoing. Fortunately no one was hurt."