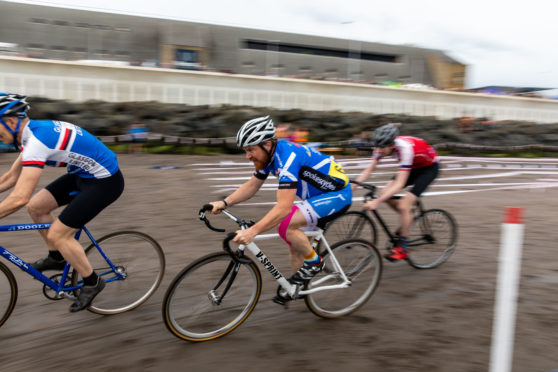 A Highland games with a twist brought spectators and competitors to a Fife waterfront.
Kirkcaldy Beach Highland Games claims to be the only beach Highland games in Europe.
It was held for the fifth time on Saturday by the town's business improvement district company, Kirkcaldy 4 All.
Fife's provost Jim Leishman officially launched proceedings following a parade led by Leven and District Pipe Band.
Despite a dismal forecast the rain held off until near the end of the event and organisers were pleased with the turnout.
Cyclists and runners raced on the sands by Kirkcaldy Esplanade, where children's races were also held.
An absence of competitors for the heavy events saw members of the public flex their muscles and have a go at some strong man challenges.
Due to the predicted rain, Highland dancers competed inside the nearby Mercat Shopping Centre, drawing a throng of watchers.
The games' location was not its only twist.
It was also reckoned to be the only Highland games to host a race between a Minion and three dinosaurs, with almost a dead heat as the mascots crossed the finish line.
Possibly the only Highland Games in the whole world to be on a beach and have dinosaur and minion racing @Kirkcaldy4You pic.twitter.com/eKJfMjuCwe

— Christine May (@poliauntie) June 8, 2019
Christine May, of Kirkcaldy 4 All, said: "We were really pleased with the turnout of entrants, competitors, the crowd and the people who came to support us.
"The town really did us proud.
"We did move the dancers into the Mercat and they drew in crowds, apparently they were stowed out with folk.
"Hopefully people then went and spent money in the shops, which is what the event is all about."
The games are part of a series of events staged by Kirkcaldy 4 All to encourage people to come to Kirkcaldy town centre and provide an economic boost for local traders.
More than 3,000 people turned up to watch the action at the inaugural games in 2015 and it was deemed such a success it was decided to make it annual.
The event was the brainchild of Andrew Bowie from Kirkcaldy and Don Campbell, a former Highland games competitor from Lochgelly, who both used the beach for regular training sessions.