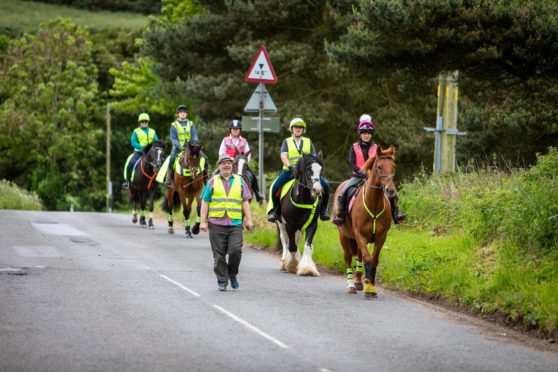 Fife motorists are being urged to be more careful after accidents claimed the lives of two horses in recent years.
The region was the most dangerous place to take a horse on the road last year, with more incidents than anywhere else in Scotland.
In 2018/19, there were six incidents involving horses on Fife's roads, with one resulting in a horse being killed.
And although there was only one incident the year before, this also resulted in an animal fatality.
No horses were killed on the roads anywhere else in Scotland over the last two years, according to figures compiled by the British Horse Society (BHS).
Concerns about safety have been raised by Caroline Andrew, yard manager of Newton Farm Stables in Wormit.
When access to their usual fields is restricted because of farming activities, Ms Andrew has to take her horses on the road to other exercise areas.
She urged drivers to slow down and give horses space to prevent accidents.
"I've had incidents when vans have come round a blind corner and have not been driving to the road conditions, and not expected to see me, and have not made much of an effort to slow down," she said.
She added that even well trained horses can get spooked and it was vital they have enough space.
Local Lib Dem councillor Jonny Tepp said: "I met the stable community with the local police and listened to their concerns. The horse owners were able to tell us about a number of near misses and expressed their concern that not enough was done to make drivers aware of how to pass horses safely.
"A shared concern was that drivers simply drove too fast for the road conditions.
"The police recognised the safety concerns on this stretch of road but noted that the bendy nature of the country road in question did not lend itself to enforcement action.
"The traffic management team of Fife Council noted that safety signs had already been located here to make the public 'beware of horses' and that no other measures were warranted here.
"Unless we can raise driver awareness and influence driver behaviour horse owners fear that it is only a matter of time before an accident happens here."
The BHS advises drivers to slow down to a maximum of 15mph when passing horses, refrain from sounding their horn or revving their engine, pass leaving at least a car's width if possible and drive slowly away.
Between 2017/18 and 2018/19, road accidents involving horses increased from 25 to 40 across Scotland.
Alan Hiscox, director of safety at the BHS, said: "The dramatic increase in incidents is of huge concern, but we are aware that only one in 10 accidents are reported to us, therefore these figures are only the tip of the iceberg."