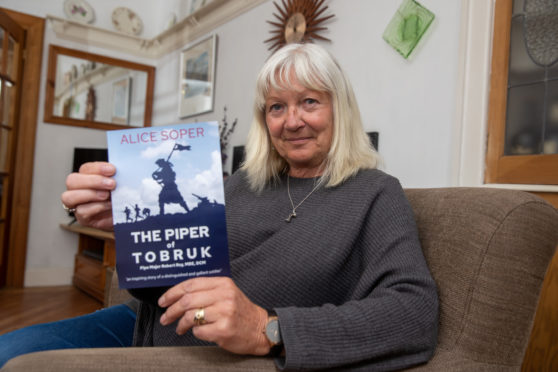 Felled twice by bullets as his soldiers came under heavy fire in Libya, the valiant piper got to his feet and continued playing.
When he was struck by a third bullet Robert Roy lay injured on the ground but still he kept playing, determined to rally his men in the outbreak of Tobruk.
That bravery in 1941 earned him both the Distinguished Conduct Medal and the title of the beloved Piper of Tobruk.
But it is just one story of the astonishing military career of Pipe Major Robert 'Rob' Roy, MBE, DCM, told by his daughter in a book launched on Sunday.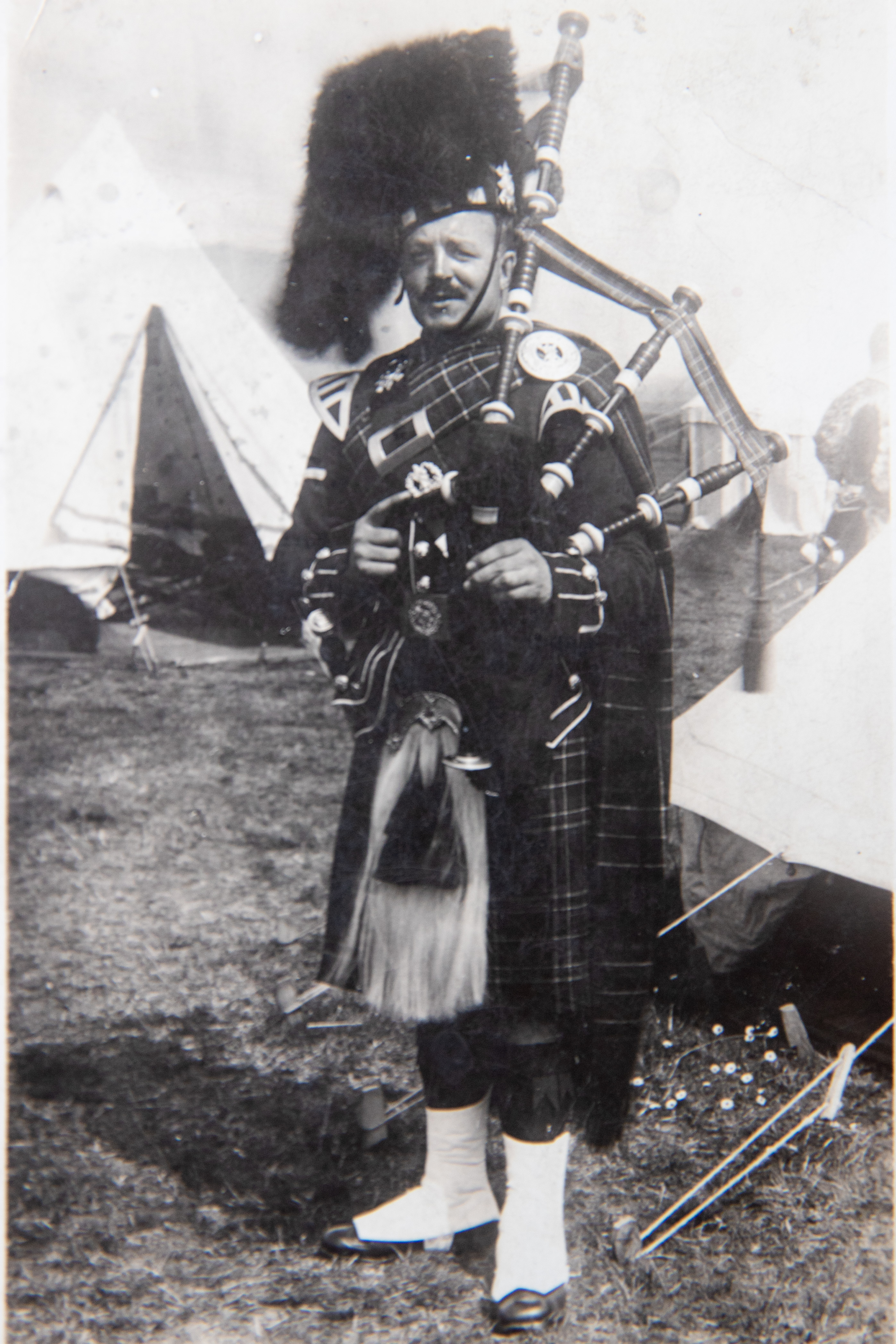 Alice Soper, 70, began working on The Piper of Tobruk, published by Tippermuir Books, around five years ago, inspired by her pride in her late father's heroism.
The soldier's gallantry at Tobruk is well documented but Alice, a former councillor in Kirkcaldy, tells other fascinating stories from his time as a soldier in her account.
Wounded in battle in Crete, her father also escaped from a prison camp in Greece alongside SAS commander Roy Farran, his prized bagpipes under his arm.
Alice said: "I'm just so thrilled I've managed to put pen to paper and get this all written down."
The former Kirkcaldy councillor began researching her father's story after her mother Hilda died in 2011, initially to pass it on to her two sons and four grandchildren.
She said: "I found this old suitcase packed full of all sorts of photographs of various places, also some hand written accounts of his experiences in Crete.
"They are the most fascinating pieces of writing about how he was captured in Crete and sent to Athens and his experiences in a prison camp there, from where he then escaped with his bagpipes.
"We also have postcards and photographs of two Greek families who hid my dad in Athens and looked after him and Roy Farran.
"My father then went in a boat to Turkey and got a pass from the Syrian Consulate, a false ID card basically, to allow him passage.
"He made his own way back to North Africa and rejoined his regiment. He just walked in one day and said I'm reporting back."
Alice said she was "so proud" of her father.
She said: "I just think he was so brave. When you read about what he did, he cared for his men."
As Alice writes in her book, one British officer said hearing her father play Highland Laddie at Tobruk was what got him back on his feet and advancing again.
He said: "The Pipe Major's playing was instrumental in kindling the spirit with which the whole attack was carried out."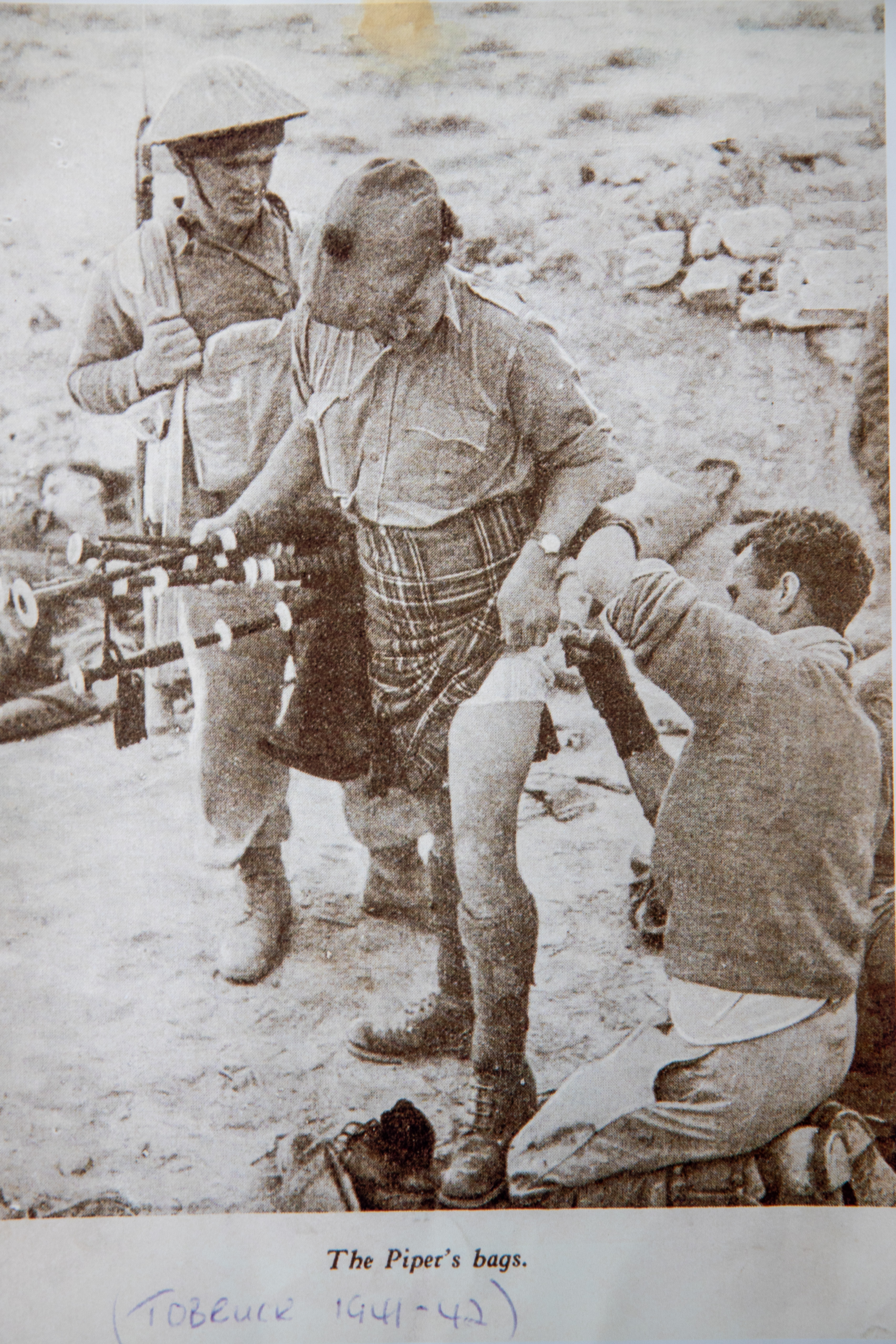 Although Alice was only 11 when her father passed away she has fond memories of him.
She said: "He was very correct and he liked things done properly but he was soft-hearted, he was an ordinary unassuming person but he got on with lots of different people."
So much so, she said, that while with Farran he refused to call him by his first name because of his senior rank.
Alice's book has been described as compulsory reading for military personnel by Lieutenant General Sir Alistair Irwin, former Adjutant-General of the UK forces and Commandant of Sandhurst Royal Military Academy.
In his foreword he wrote: "The Piper of Tobruk is an inspiring story of a distinguished and gallant soldier whose exploits in war and peace are genuinely remarkable."
Pipe Major Roy went on to serve in Burma, India, Gibraltar and Scotland.
He returned to the 7th Battalion in 1944 where he served with distinction during the final European campaign.
In 1949 he was posted to the Territorial Army HQ in Kirkcaldy, moving to Dundee as RSM of 4/5th Black Watch three years later.
He went to Gibraltar as garrison RSM in 1957.
Pipe Major Roy was made an MBE in 1952 but died only eight years later at the age of 51. He was rehearsing to be the lone piper at the Edinburgh Military Tattoo at Edinburgh Castle when he suffered a brain haemorrhage.
At his military funeral in Kirkcaldy the pipes with which he inspired men on the battlefield were heard again in a lament. His kilt from Tobruk, punctured with bullet holes, and his chanter are displayed The Black Watch Regimental Museum at Balhousie Castle, in Perth.
The Piper of Tobruk will be available from Tippermuirbooks.co.uk, Amazon.co.uk and other book shops.