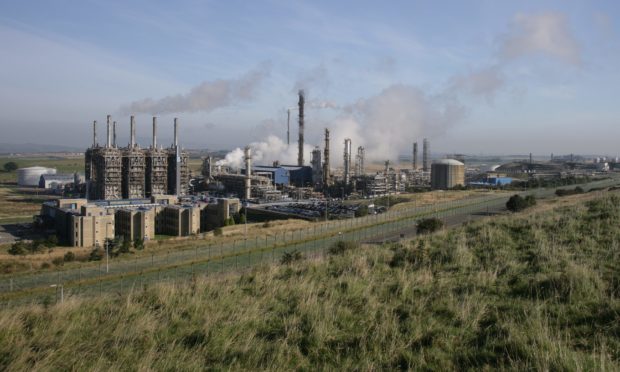 A prolonged gas leak at Mossmorran is under investigation by the UK's health and safety watchdog.
Inspectors demanded repairs after they found potentially explosive ethane had been escaping from damaged pipes for several weeks as they made a routine visit to Fife Ethylene Plant, near Cowdenbeath.
Anger was voiced by the area's MSP Annabelle Ewing that operator ExxonMobil Chemical had kept quiet about the incident while concerns mount about the frequency of unplanned flaring.
A warning was also issued by campaigners Mossmorran Action Group that the plant could suffer a disaster like that of Bhopal in 1984.
The Health and Safety Executive confirmed it was probing the leak discovered on May 21, just five days after an unconnected propane leak at the Braefoot Bay marine terminal ExxonMobil shares with Shell.
It served an enforcement notice and said the damaged pipework is no longer in use at the plant, which is already on a final warning from environment agency Sepa.
Ms Ewing has written to ExxonMobil's plant manager demanding to know why the leak was kept quiet.
She said: "My constituents who live in the local area are rightly worried about the litany of failings at Mossmorran.
"They deserve reassurance and, quite frankly, ExxonMobil, having already severely blotted their copy book with a number of unplanned flarings, have not exactly covered themselves in glory with this latest episode."
Mossmorran Action Group chairman James Glen said: "For years communities have worried about this aging plant exploding.
"Unplanned flaring, which only happens when there is an emergency shutdown in operations, is now a regular occurrence.
"The secrecy and lies about Mossmorran have to stop before Fife suffers its very own Bhopal."
Thousands of people were killed by a leak of toxic methyl isocyanate in the disaster in Bhopal, Madhya Pradesh.
Green MSP Mark Ruskell said: "We've known for some time that the excessive unplanned flaring is occurring due to this lack of investment in the plant, but nonetheless the news that ethane has been leaking from the plant for weeks is shocking and will do nothing to ease local concerns about safety.
"My constituents are rapidly losing patience with the operators and will expect HSE to take the necessary enforcement action urgently."
An HSE spokesman said: "HSE inspectors identified the leak on an inspection on May 21, 2019.
"Following the intervention the line was isolated and the damaged pipework has now been bypassed and is no longer in use and will be removed from service.
"HSE served enforcement notices to secure compliance. The investigation is ongoing."
Stuart Neill, external affairs manager for ExxonMobil, said: "This issue has now been fully rectified.
"The pipe in question is used to inject an additive we use to keep our furnaces running efficiently.
"The leak was extremely small and was constantly monitored and managed as part of our robust risk management systems.
"A full repair schedule was devised and completed safely and to the highest engineering standard.
"We continually work with the HSE to ensure safe operations at all times."
The leak at Braefoot Bay, Aberdour, was discovered in the early hours of May 17 and Shell said the situation was resolved later that morning.