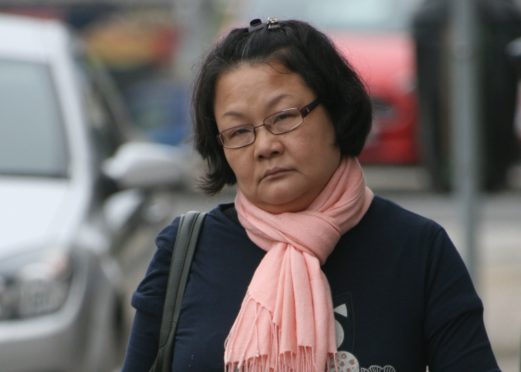 A Fife brothel madam is facing the prospect of prosecutors trying to seize up to £250,000 in ill-gotten gains just weeks before Christmas.
Chin Chih Chang, 53, was previously convicted of running a vice den from a luxury waterfront apartment in Kirkcaldy.
During the trial, Kirkcaldy Sheriff Court heard one man recall how he received a "Brucie bonus" following a back rub, while another was offered the "girlfriend service" or a "naked massage".
Chang, of Eaton Road, Hove, Sussex, was found guilty of keeping or managing a brothel at the flat in Lord Gambier Wharf, Kirkcaldy, between April 18 2016 and May 31 2017, although she avoided jail by being sentenced to 300 hours unpaid work and a year-long restriction of liberty order.
The Crown's proceeds of crime unit is trying to claw back a near quarter-of-a-million pounds by way of a confiscation order.
Chang was present at the latest hearing in Kirkcaldy on Tuesday, although the lack of a Mandarin interpreter was just one of the reasons the case had to be put off once again.
Defence solicitor David Bell explained: "This case has been continued on a number of occasions because there are a lot of particular complexities about it, not least of which is the language issue."
Mr Bell said the defence had appointed a forensic accountant who had prepared a series of questions for his client to answer but added: "I received documentation and some answers which are not exactly responding to the questions posed, so that has to be explored further."
Chang was found guilty of selling sex through adverts posted on Gumtree for between £80 and £110 a time at client's homes or in the harbour flat at Lord Gambier Wharf.
Witness tells court he paid for massages with "happy endings" in Kirkcaldy
Chang always insisted she was running a legitimate business and said sums of cash she transferred to her native Taiwan were for her son or to repay family loans.
The Crown has subsequently launched confiscation proceedings, with Chang facing a prison sentence if a sum is agreed by the courts and not paid back.
The court previously heard how Chang's bank accounts had been frozen as a result of the proceedings, leaving her with only £5  at one stage, while the fact much of the paperwork involved in the case is written in Mandarin has also been a problem.
Sheriff Pino di Emidio identified dates early in December for the hearing to go ahead, and also fixed a pre-proof hearing for October 11 – before which the defence will have to lodge all of its productions.