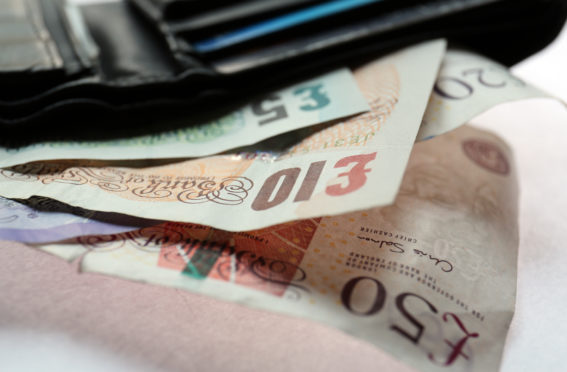 Shops and businesses across Tayside and Fife have stopped taking £50 notes amid fears the market has been flooded with forgeries.
Despite no formal instructions being issued by Police Scotland, The Courier understands scores of premises have taken the decision to refuse the notes after fakes were found in circulation.
The worst affected areas appear to be tourist hotspots in north east Fife such as St Andrews and in the East Neuk, where a number of shops have put up signs and posters about the policy, stating they cannot afford to sustain such losses.
Two men have been reported to the procurator fiscal in connection with the distribution of counterfeit £50 notes in north east Fife earlier this year but concern remains the suspect notes are doing the rounds across the region.
A Police Scotland spokesman stressed that no edict had been sent out to retailers but Sergeant Matt Spencer of the St Andrews Communtiy Policing Team, said: "Officers in east Fife became aware of counterfeit £50 notes which were circulating in November of last year and also in April and June of this year.
"In response to the issues, we worked closely with our partners carrying out visits to local retailers providing advice on how to identify fake notes and requesting they make contact with police where such notes have been tendered.
"We continue to urge local retailers and local residents to be vigilant when accepting £50 notes and would advise there where they are unsure about the legitimacy of any notes, to consult their local bank."
Shops are not obliged to accept legal tender as payments with banknotes, coins, debit cards or anything else is classed as a decision taken between shoppers and the business involved in the transaction.
A spokeswoman for the St Andrews Business Improvement District (BID) said members were aware of the situation.
"The BID St Andrews team has been working closely with Police Scotland in their attempts to prevent shop keepers falling victim to any counterfeit notes doing the rounds.
"We have been using social media and other communication tools to alert all businesses and consumers to any known issues."
The Courier understands some of the fake notes have been particularly hard to spot because the forger used methods which circumvent detection with an ultraviolet pen.
All genuine, new Sterling notes feature a watermark, a hologram, a series of dashes which become a solid line when held up to light and have the name of the bank in raised print. Each note also has an individual serial number.
In a recent incident, two of these notes were tendered in the Dundee area by three men with Irish accents who were driving a long wheelbase white van.
While within the shop all three men spoke quickly, as if to distract staff.
Each of them purchased less than £10 worth of goods before paying with a £50 note, each of which was subsequently found to be a fake.
Anyone who has suspicions over counterfeit notes can contact Police Scotland on 101.