VIDEO: Heartfelt donation earns Lochgelly kids their own private performance
By
Neil Henderson
August 2 2019, 1.31pm
Updated: August 2 2019, 4.25pm
A heartfelt donation left by three youngsters while playing on the steps of a church hall has led to a private performance by one of Scotland's oldest surviving brass bands.
So moved were Lochgelly Brass Band by the handwritten note and pennies left by the girls, band members posted on social media in the hope of finding the youngsters to thank them.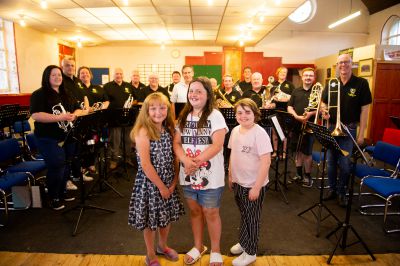 The girls note read: "Dear Church, we love your music. Love Maya, Halie and Kaitlyn. 3p is all we have for our donation, sorry." It was left alongside the money and a selection of flowers.
Now, thanks to The Courier who tracked down the three pals, they have been given an exclusive performance.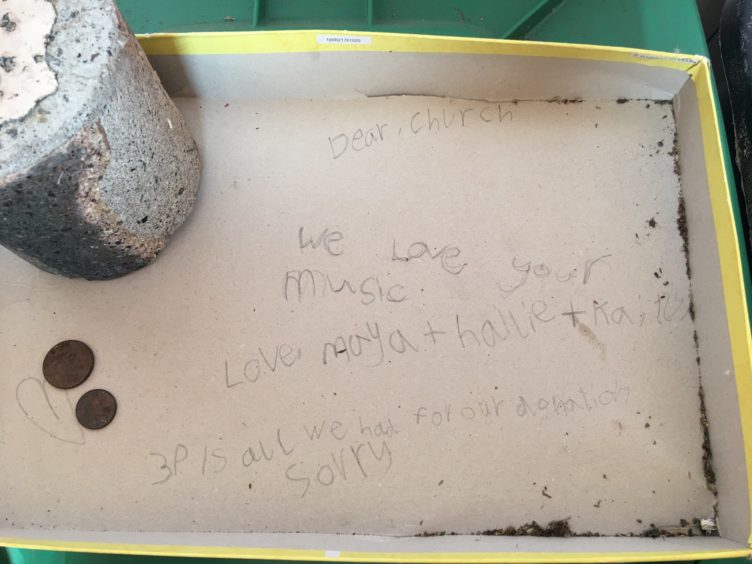 It was the least they could do to show their gratitude, said band secretary Lynsey Mcilwraith.
"It really was a lovely gesture by the girls, which tugs at the heart strings.
"Our post on the band's Facebook page certainly got lots of people talking and we're so glad to be able to thank them in person."
Kaitlyn Hynd,10, Hailie Waugh,9, and Maya Ellis,10, met band members and were given the opportunity to try some of the instruments before hearing the band run through several tunes, including a rousing rendition of Queen's Don't Stop Me Now.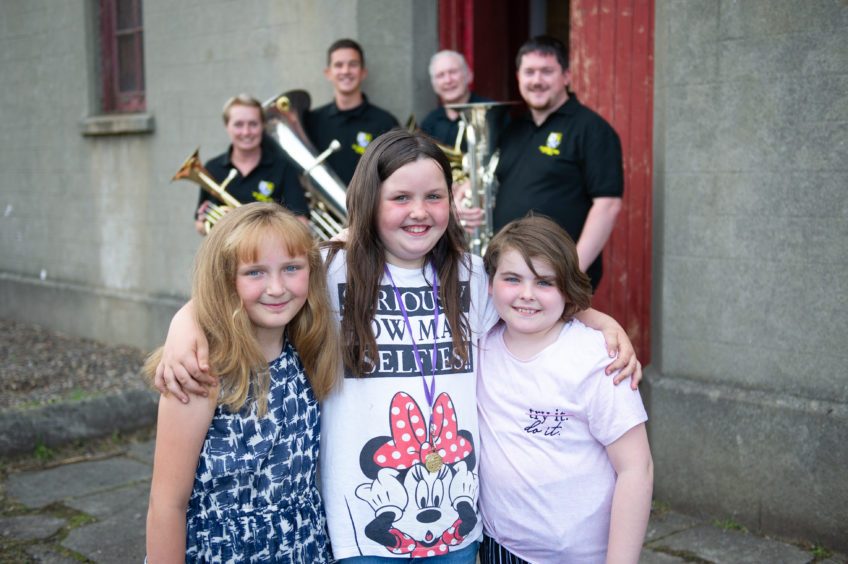 Asked why they left the note, Kaitlyn said:  "We love listening to the music while we are playing in the street, the band is really good and we don't want them to ever stop."
With the band needing to raise £5,000 to make improvements to their Russell Street practice hall, the outfit's home for more than 60 years, Maya said they only had the pennies they had found but hoped it would help.
Her proud mum, Stacy Allan, said: "I couldn't believe it when I saw the note on social media, it's made we realise how important the band is to the history of Lochgelly and the local community today."
The children's heartfelt gesture was warmly applauded by Davy Bennison, 84, who has played with Lochgelly Brass Band for the past 73 years.
"The girls are fantastic, they are the similar age to when I first started playing, it's great to see youngsters so enthusiastic about  the music."
Formed in 1864, Lochgelly band are one of the oldest surviving pit bands in Scotland competing at regular competitions around the UK as well as performing at galas, remembrance services and Christmas events in Fife.