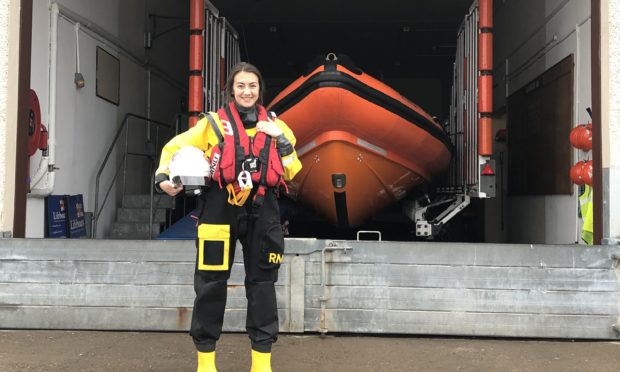 A million-pound training fund is helping local lifesavers learn vital skills.
Kirstie Wakefield, a recently recruited volunteer crew member at Kinghorn RNLI lifeboat station, has had a part of her training funded by Lloyd's Register Foundation.
Kirstie, 24, recently travelled to the RNLI College in Poole to complete the charity's crew emergency procedures course.
The probationer teacher was inspired to join up as a volunteer crew member following a recruitment event held by the Kinghorn station.
As part of the course she and the other trainees from around the UK were schooled in a variety of subjects, including how to deal with fires aboard lifeboats, how to abandon ship in the event of an emergency, team survival swimming and coping in a life raft in darkness.
Kirstie said: "The course was absolutely brilliant and I learned so many skills that I am now confident to put into practice if I ever needed to.
"We covered a variety of emergency procedures and scenarios, and it was extremely valuable spending time with crew members from other stations."
Lloyd's Register Foundation has committed to funding the course until next year.
Its total support for RNLI crew training amounts to more than £2.46 million since 2008.
More than 3,000 RNLI volunteer crew members have now received the training thanks to the foundation's support.
RNLI lifesaving delivery training manager James Kilburn said: "Their support is very important to us.
"So far, over 3,000 of our crew members have benefited from Lloyd's Register Foundation funding this part of their training."
Mr Kilburn said only one crew member in every 10 was from a professional maritime background, so the course was crucial in giving volunteers the training they need and helping keep them as safe as possible while carrying out rescues.
"It gives volunteers the confidence to save lives even in the most challenging conditions," he added.
The foundation's long relationship with the RNLI was recognised recently in the form of  a group supporter award presented by Prince Michael of Kent.