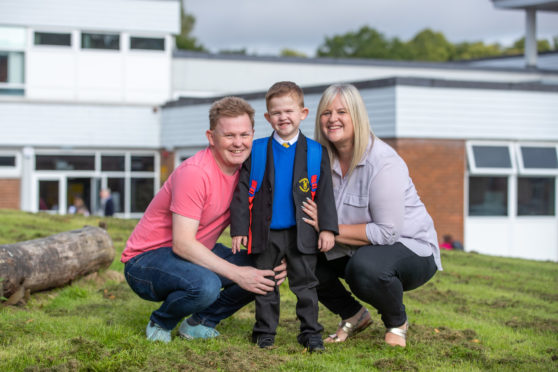 A boy who was once Scotland's youngest dialysis patient was among hundreds of Fife children starting school on Wednesday.
Daniel Cornet, 5, joined his friends in P1 at St Margaret's Primary School, Dunfermline.
The youngster underwent a kidney transplant in December 2017, thanks to a donation from a relative.
Born with renal failure, Daniel, of Dunfermline, was only 10-months old when he started a regime of nightly dialysis.
His mum Louise Paton said it was a real milestone to see him start school.
She said: "It's such a big day, there were times we didn't think we'd make it to this."
After celebrating his birthday two weeks ago, Daniel was eager to embark on his school journey and was accompanied to his classroom by Louise and his dad Nicky Cornet.
Louise said: "This morning, he was really excited, he couldn't wait to get there and see his friends.
"I was quite emotional before we left the house but then we saw him in and settled and he was so happy."
After his transplant, Daniel developed a type of lymphoma which can occur from treatment to dampen the immune system.
However, he is in remission and Louise said he had been well since Easter.
Across the region four- and five-year-olds were full of excitement and nerves as the bell rung on Wednesday morning.
Dressed smartly in their new uniforms and clutching their schoolbags they were eased into their first day of school life by their teachers, helped by familiar nursery staff.
It has been more than seven weeks since the boys and girls walked out of nursery classes for the last time.
For the first time, P1 pupils spent the whole day at school, rather than starting with introductory half days.
At Capshard Primary School younger children arrived at their new nursery. A £4.5 million extension to the Kirkcaldy school includes a state-of-the-art nursery school, new classrooms and a community hub.
The new nursery is one of a number being created across Fife to meet the Scottish Government commitment to increasing free early-learning and childcare provision to 1,140 hours a year for three- and four-year-olds by 2020.
Get today's Courier in Fife and Perth &Kinross for a two-page first-day-at-school picture special