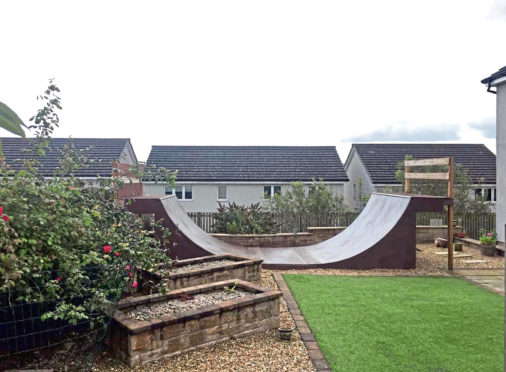 A business consultant who built a skateboard ramp in his garden is fighting an order to take it down after council bosses launched a probe.
Ross Salitura, 29, erected the halfpipe ramp in his back garden and regularly practises his skills.
The structure is 23ft long and 7ft wide and has 4ft raised platforms at both ends but has fallen foul of planners.
Mr Salitura, of Kinglassie, was given the £1,000 self-assembly kit as a Christmas present and it was supplied by a firm in Yorkshire.
He claims he only uses it for exercise and does the majority of his boarding on a Wednesday when he is not working.
He insists he uses it when the bulk of his neighbours are out at work and denies he is causing disruption.
But officials from Fife Council ruled he had breached planning rules and issued an enforcement notice ordering him to dismantle the ramp.
A letter to Mr Salitura said: "It is plainly visible from neighbouring gardens, being higher than surrounding boundary treatments, and the combination of its height and 'home-made' appearance serves to enhance its harmful impact on neighbouring amenity.
"The height of the platforms is such that neighbouring privacy is unacceptably reduced, as anyone using the ramp will be plainly visible from neighbouring houses and gardens, as well as being able to overlook neighbouring houses and gardens."
Mr Salitura has appealed to the Scottish Government.
In a letter to the government he said: "It is not used as a base to intrude on neighbours or used in any manner as some sort of 'decking' as the formal notice dictates.
"The use of the ramp is not continuous and when in use, it is always within a reasonable hour, or on my one day off from working, which is Wednesday.
"Which I again state, I use the ramp during the day, when a majority of people are at work and children at schools, therefore, minimising any disruption that anyone is trying to claim.
"I am very respectful of timings when using the ramp, which is not always the case with neighbouring children on trampolines, parents in the streets and neighbours who hold regular parties outside of social hours."
Derek Simpson of Fife Council said: "We received a complaint about the skateboard ramp and investigated.
"The outcome of our investigation was that the skateboard ramp had an adverse visual impact on the surrounding area and also caused a loss of privacy to neighbours.
"We served an enforcement notice for its removal but an appeal against this has since been submitted to the Scottish Government."
A reporter is expected to make a decision in due course.