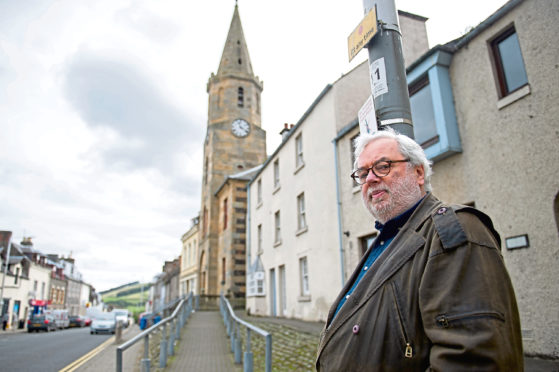 A mobile phone giant has blamed tree branches for poor signal in a Fife village.
O2's explanation for a mast failure at Newburgh was branded farcical by customer Ken Ferguson.
He complained that his signal was fluctuating and a problem with the mast was registered by the provider on August 11.
Initially, Ken, 72, was told a component in the mast was in need of replacement, but he was later informed the signal was being blocked by tree coverage.
The retired press officer from Newburgh cast doubt on the explanation.
He said: "The idea a mobile mast cannot transmit beyond a line of trees is an absolute insult to intelligence.
"Mobile phone signal can pass through walls, into multi-storey flats, down to basements, to ships at sea. You can even get mobile signal on a plane these days. This must be a particularly unusual and interesting species of tree."
He added: "There was signal before and now there's not.
"Trees don't just suddenly appear from nowhere."
O2 has insisted trees can get in the way of mobile phone signals.
The company told Mr Ferguson the mast in question was on private land and permission was required from the landowner to gain access to cut back trees.
A spokeswoman said: "Our network relies on different types of equipment with different capabilities to provide signal to our customers.
"In Mr Ferguson's location we have a point-to-point microwave dish installed.
"These require an unobstructed, direct line of sight with another microwave dish to work.
"Because microwaves have a higher frequency, it is possible for trees to block the signal.
"Other parts of our network rely on radio antenna.
"Radio waves have a lower frequency that can penetrate walls.
"We are still unable to give an exact date for a resolution, but this has been escalated."
The mast was still listed in the signal checker part of O2's website as "not working" on Tuesday.
cpeebles@thecourier.co.uk