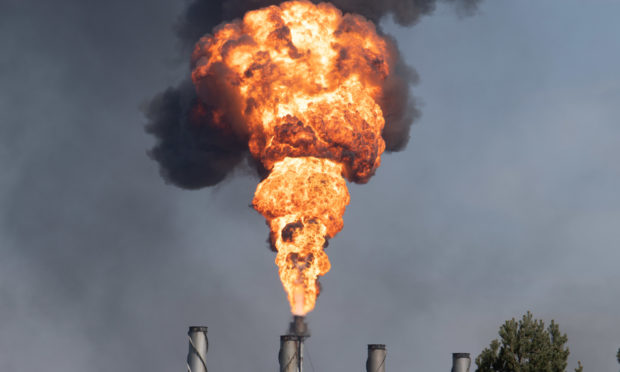 Scotland's environment secretary has said it would "not be considered appropriate" for her to meet communities affected by flaring at Mossmorran.
Roseanna Cunningham was responding to a request from Green MSP Mark Ruskell, who said he wanted residents to be given a chance to speak to the Scottish Government directly about the impact of flaring at the Fife chemical plant.
Ms Cunningham told Mr Ruskell in a letter seen by The Courier: "I appreciate your invitation for me to meet with some of the communities affected by flaring at Mossmorran.
"My involvement in a ministerial capacity risks raising expectations unnecessarily, prejudicing Sepa's (Scottish Environmental Protection Agency) potential enforcement action and limiting the options available once Sepa's investigation has concluded so would not be considered appropriate at this time."
Fife Ethylene Plant (FEP), run by ExxonMobil, has been shut down since mid-August after boiler failures resulted in its latest flaring episode.
Shell is continuing to operate Fife NGL Plant, which is located next to FEP at Mossmorran, and has had to burn off ethane, which would have been processed at FEP, from its ground flares.
Mr Ruskell, Green MSP for Mid Scotland and Fife, said: "No one is suggesting that oil and gas producers should cease production immediately, but it is incumbent on government to make long-term plans to decarbonise our economy.
"We owe it to the workers at Mossmorran to begin planning for alternative jobs and investment in the area now, the climate emergency won't wait.
"The plant needs a clear investment plan to make it less polluting and as low carbon as possible, or it needs a managed closure."
Ms Cunningham said in her letter: "The frequency and impact of unplanned flaring is unacceptable and residents have a reasonable right to expect that all practicable steps will be taken to reduce its frequency and impact.
"Sepa continue to monitor air quality and noise standards, and air quality continues to show no breach of air quality standards due to flaring."
She added: "The Exxon facility is a major employer and source of skilled jobs in Fife – contributing significantly to the local economy.
"I do not believe that our ambition for 2045 net zero means that our major industries case operation.
"A thriving industrial sector remains vital to Scotland's economy and the sector and is supply chain must play a positive, leading role on supporting the low carbon transition."