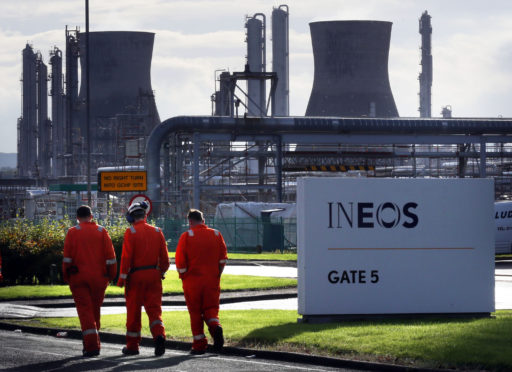 Authorities have been urged to "come clean" over what impact a no-deal Brexit will have on fuel supplies across Scotland, amid fears disruption in and around the Firth of Forth could see a return to panic buying.
Previously secret documents highlighting details of what could happen if the UK leaves the European Union without a deal were published earlier this week, prompting worries about the impact it could have on food and medicine stocks.
However, revelations in the Yellowhammer papers suggesting two of Britain's six refineries could close, leading to fuel shortages and up to 2,000 direct job losses, have sparked concerns around the country's preparedness if the refinery at Grangemouth and the marine terminal at Hound Point in the Forth were to be impacted.
The Yellowhammer document, which was partly redacted, is understood to highlight how the UK government's decision not to apply tariffs to imports of petrol in the event of a no-deal Brexit would effectively "undermine" the industry's plans to mitigate any impact on refinery margins, and would result in significant financial losses and the closure of two refinery sites.
That, papers say, could lead to strike action and disruptions to fuel availability for up to two weeks in the regions directly supplied by the refineries – meaning Fife and the surrounding areas could be worst hit.
Shortages and huge queues were reported spring and summer 2008 when a refinery workers' strike at Grangemouth led to panic buying.
Calls for measures to avoid a repeat of those scenes have been stepped up.
The SNP's foreign affairs and Europe spokesman, North East Fife MP Stephen Gethins, said: "No-one is arguing that Brexit is a good idea any more.
"Instead we are debating and discussing medicine and food shortages that will have the worst impact on the most vulnerable. Added to that are concerns about the impact on fuel and at Grangemouth.
"The government must come clean about the impact this will have on jobs and motorists. This Tory government's commitment to a dangerous and damaging Brexit will hit us all.
"Our politics can and should be so much better than this."
The government has repeatedly insisted Operation Yellowhammer focuses on the "worst-case scenarios" if the UK leaves without a deal in place and it is working with the industry to prepare for Brexit.
"We will continue to work flat out to prepare for the potential impact on UK refineries in the event of Brexit without a deal, and to be responsive to the needs of all UK businesses and consumers both as we prepare to leave the EU and afterwards," a spokesperson said.
Ineos, which operates the oil refinery at Grangemouth, has previously warned a no-deal scenario would pose a "significant risk" to its business because of uncertainty over trade tariffs and potential delays at ports disrupting supply chains.
Fife Council's chief executive Steve Grimmond said the kingdom will be as prepared as possible.
"Fife Council is following Scottish Government, and other public bodies, advice and guidance and are preparing for key issues/risks that could impact on essential service delivery in the event of a no-deal Brexit," he said.
A COSLA spokesperson added:  "Scotland's councils continue to plan and make contingency arrangements for as many 'impact of Brexit' Scenarios as they can.
"Specifically in terms of fuel resilience, local authorities are also in regular contact with officials from the Department for Business, Energy and Industrial Strategy."