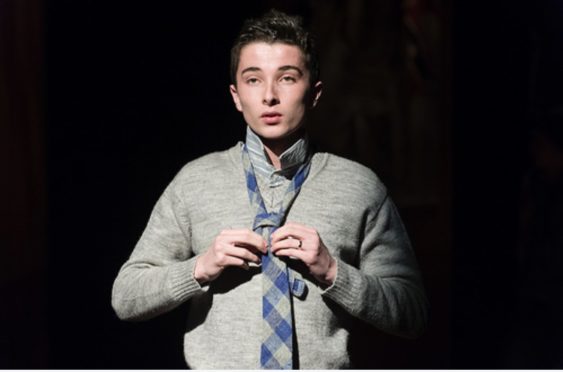 A talented Angus man will be treading the boards in his very own 'Theatre of Dreams' after landing his first lead role in a musical.
Ryan Kopel, 21, from Kirriemuir, who has appeared in The Inheritance and West Side Story, will star in the title role in The Astonishing Times of Timothy Cratchit at Hope Mill Theatre in Manchester.
The grandson of late Dundee United star Frank Kopel will start rehearsals for the musical next week in a city with close links to his family.
Ryan's late grandfather Frank started his football career with Manchester United alongside George Best and Bobby Charlton at the 'Theatre of Dreams' at Old Trafford 55 years ago.
Gran Amanda said her husband would have a huge proud smile on his face knowing  Ryan will be playing on a "different kind of stage" when he appears in The Astonishing Times of Timothy Cratchit which is inspired by the characters of Charles Dickens's A Christmas Carol.
It follows the plight of young Tim from the home of his benefactor, Ebenezer Scrooge, to the theatrical madness of the comic Giuseppe Grimaldi.
Ryan said he fell in love with the music and the story as soon as he auditioned for the part.
"It's very exciting to be appearing in something new," he said.
"It's my first lead role and a very important moment in my career and something I'll always remember.
"I was given the full script at the first audition and I immediately fell in love with it and wanted to be part of it.
"I was delighted when I landed the role and I can't wait to start rehearsals next week."
Ryan will appear alongside Paul Greenwood as Scrooge, Michael Matus as Grimaldi, Helen Pearson as Mrs Linden/Miss Pool, Sammy Graham as Lucy, Trevor Whittaker as Quilp, Hannah Brown as Momo/Miss Tulips and Sadie-Jean Shirley as Aria.
The cast is completed by Dimitri Gripari, Tadek Chmiel and Tom Sterling.
A former pupil of Isobel Luke from Brechin, he started out performing with Rising Youngstars and Angus Musical Youth Theatre.
He attended the Dance School of Scotland in Glasgow, Scotland's centre of excellence for dance and musical theatre and then moved to London to study at Mountview.
He was named Young Scottish Musical Theatre Performer 2018.
Ryan featured alongside Vanessa Redgrave in The Inheritance at the Noel Coward Theatre which was enjoyed by audiences into early 2019.
He said the support he has received from his family and friends has brought home the "sense of community"  in Kirriemuir.
"It's lovely to have that support and it really does push me forward," he said.
"Manchester is not a place I know well but I know my granddad used to play in Manchester which is really nice."
Gran Amanda said: "It's lovely that Frankie's grandson will be playing on a different kind of stage just a stone's throw away from Old Trafford.
"I'm sure Frankie has a huge proud smile on his face seeing that."
The show will play at the Hope Mill Theatre from November 22 to December 29.