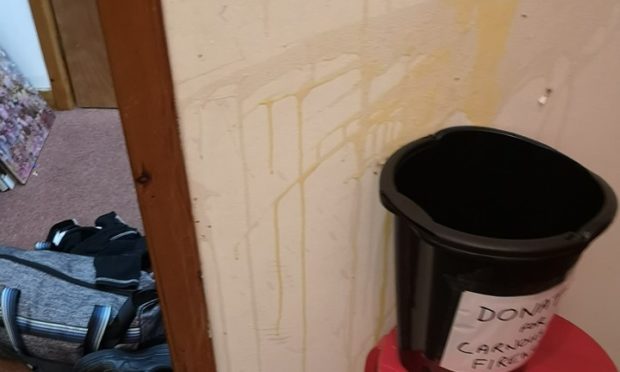 A group of dancers, some as young as eight, were left crying and cowering in fear after their studio was attacked by a hooded mob on Halloween.
Less than a week after receiving Carnoustie's Citizen of the Year award for her work with young people in Angus, dance teacher Fiona Forbes had to run into the night to disperse the gang who had gathered outside her Angus Centre for Performing Arts.
Fiona said the group of 10 to 15 teenagers – wearing hoods and with their mouths covered with scarves – shouted obscenities at students and staff while opening the front doors and pelting the building with eggs at around 7pm.
The attack, at the centre on Terrace Road, left some of the dance students too terrified to leave the studio when the gang finally fled into the night.
Fiona said the experience was so traumatic it left her momentarily questioning her faith in young people, the core of her life's work and the reason she was given Carnoustie's top honour less than a week previously.
The gang opened the studio's front doors and pelted the inside with eggs, damaging dance equipment and bags and clothing belonging to the young students.
Fiona said: "Each year we get egged. We think to yourselves it is just kids being kids and we ride it out but this was brazen. It is just too far.
"Our kids think of this as a safe place to come. We are trying to create something good. We had to walk the pupils to their cars because they were too scared to go outside.
"The young ones were in tears. It was very scary for them."
She said the younger children started screaming as soon as the eggs started hitting the windows. Once the gang opened the front doors, she contacted the police and went outside to challenge them, receiving help from the father of one of the pupils who was sitting in a parked car outside.
"They were dressed in black with hoods up and scarves over their mouths. They were very intimidating.
"When they ran away, one of them ran towards us, but there's nothing you can do.
"I have heard they were fourth years and have already been bragging on social media. The fact the police were called seems to be some kind of badge of honour. If it is who we think it is then they are a very violent bunch.
"I do have huge faith in young people, but it did make me question that. Then the next day I watched a group of kids practising at 7 o'clock in the morning and that reminded me it was just a minority responsible for this kind of behaviour."
A Police Scotland spokesman confirmed they had received a report about a disturbance on Terrace Road and "enquiries were now ongoing."