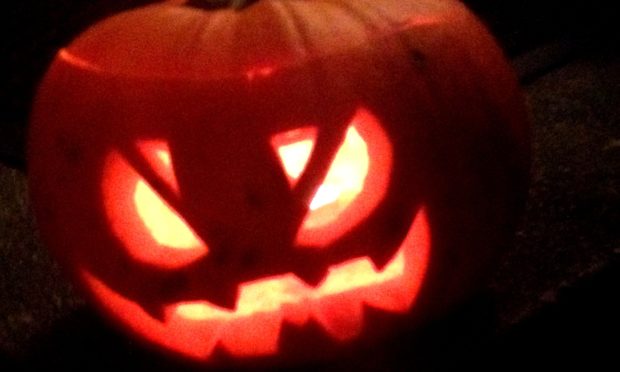 Betty baked a fruit cake. And asked Ida Smith to try it.
Says Ida Smith I'd better no, I'm on a starch free diet.
Tatties dare nae pass ma' moo and I'm no allowed nae breid.
'Ken this it's really murder, I micht as weel be deid.
I could go on – which is remarkable given that a guising poem aimed at unlocking the goodies behind doors of 1970s Letham comes to mind more easily than trying to remember a five-item shopping list these days.
And I'm fairly sure events would have also involved a neep, not a pumpkin.
The same alien invasion which brought the huge orange orbs to the shop door displays of our supermarkets has also seen trick or treaters taking over from guisers.
But while the traditionalists – your columnist included – might look back to turnip-tinted times, it still warms the heart to see excited youngsters getting into the Halloween spirit.
Up have sprung pumpkin patches in another strand of farm diversification which goes beyond solely the commercial aspect and into the field of educating and entertaining a new crop of youngsters.
Yet it's impossible to escape the reality that times have changed and the days when most parents were happy to let their youngsters out to chap on doors in the street where they knew everyone have gone.
In Angus, we also had a Halloween horror show where a gang overstepped the mark and turned fun to fear.
The kids were in Carnoustie's Angus Centre for Performing Arts and, days after she was honoured as the town's Citizen of the Year for her dedication to local youth – dance teacher Fiona Forbes had to chase a group of sweary, egg-throwing teens away from the studio.
Halloween egging of the premises had become an annual occurrence, but it becomes more sinister when the number of hooded perpetrators is into double figures, they terrorise the younger kids with obscenities and aggression, and police have to be involved.
"I do have huge faith in young people, but it did make me question that. Then the next day I watched a group of kids practising at seven o'clock in the morning and that reminded me it was just a minority responsible for this kind of behaviour," said Fiona.
Hopefully the town will be keen to track down the tearaways and they can be appropriately dealt with.
Perhaps by being made to learn a poem about fruit cake for next year.