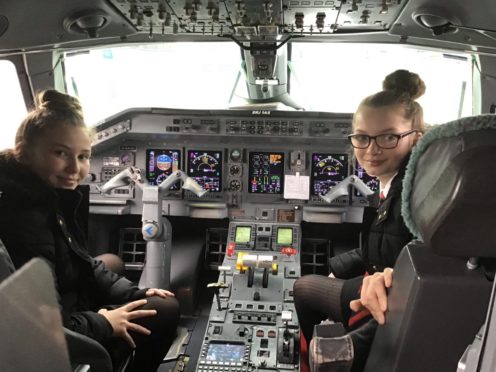 A pair of Tayside pupils were flying high after getting the chance to live out their dream of becoming air stewardesses.
Melissa Hill and Georgia Sandeman from Monikie Primary School became part of the cabin crew on a flight to England where they even ended up in the cockpit.
The P6/P7 pupils have been working on a project called Developing the Young Workforce.
They were given the task of finding out information about the jobs in which they were interested and organising some workplace visits to learn more.
Melissa and Georgia were offered the chance to attend first-aid training with Loganair but were left disappointed when the exercise was cancelled.
Principal teacher Kellie Smith said: "In an exciting turn of events, staff at Loganair arranged with the Civil Aviation Authority for the children to be given the opportunity to actually be air hostesses on a flight from Glasgow to East Midlands.
"Before the flight the girls were greeted at Glasgow Airport and were given a gift bag with some Loganair goodies in it.
"They were then briefed and shown around the airport before boarding the flight. They spoke to passengers, handed out some food and met the captain.
"The girls hugely enjoyed their visit and have definitely deepened their understanding of what the role entails.
"Their enthusiasm for the job has been extended through this once in a lifetime opportunity and we are all massively grateful to Loganair for the opportunity they have given our pupils."
Mrs Smith said the pupils have learned a huge amount of skills from the project.
They have been responsible for approaching a workplace, sending emails, creating questions and conducting a discussion with employers.
They then had to present information to their class and to the whole school about what they had learned so they also developed their public speaking skills.
Other pupils in the school visited a range of companies far and wide to learn about the range of jobs on offer in their local area.
From architects to animal care and entrepreneurs, Mrs Smith said the children at Monikie experienced and shared a huge amount of learning.
Loganair has strong links to the Tayside area after being established by the flamboyant Scottish construction engineer Willie Logan in February 1962.
The company was set up to pursue what it described as 'opportunities' and had arrived on the scene looking to fill the gaps that the state airline would not or could not fill.
Mr Logan contributed to many important infrastructure projects in Scotland during the 1950s and 1960s including the building of the Tay Road Bridge which opened in 1966.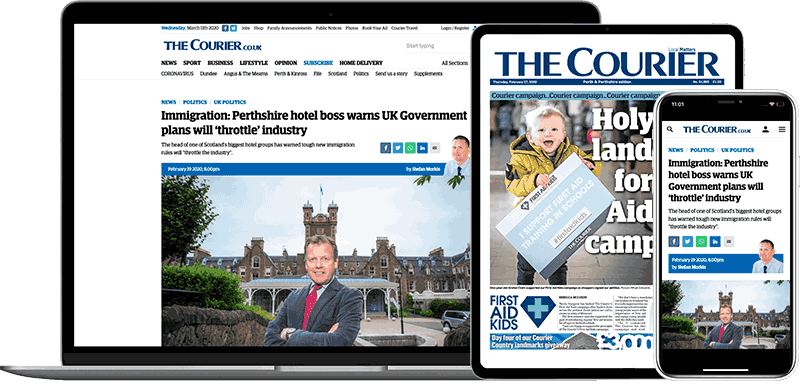 Help support quality local journalism … become a digital subscriber to The Courier
For as little as £5.99 a month you can access all of our content, including Premium articles.
Subscribe