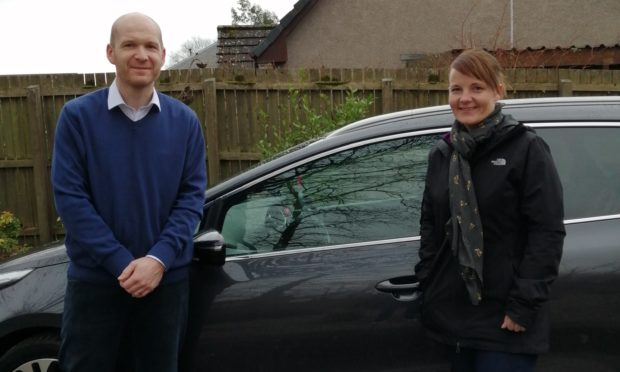 Good Samaritan students have come to the rescue of a charity volunteer whose festive season was ruined by a malicious Angus vandal.
Just weeks after Nikki Murray's paintwork was scratched in a garden centre car park while she was inside helping at a Christmas party for elderly people, Perth College bodyshop trainees worked their magic to return it to pristine condition.
The generous gesture has left Laurencekirk's Nikki "over the moon" and ensured an afternoon tea treat for the OAP group will go ahead after she feared the money set aside for it might have to be spent on repairing the damage.
Nikki, 36, is a volunteer with Re-engage, formerly Contact for the Elderly, and had collected group members in their 80s and 90s to take them to the festive get-together at Brechin Castle Centre in December.
The happy event was ruined when Nikki discovered deep gouges along the passenger side of her Kia Cee'd which had been parked, with the centre's permission, in a disabled space while she was making trips in and out to the car with Christmas presents.
"I can only assume someone has seen me return to my car and thought 'she isn't disabled', so they thought it was appropriate behaviour to key the entire passenger side of my car," said Nikki.
Offers of help poured in to Nikki, including one from Perth College vehicle body repair and re-finishing lecturer, Duncan Reid, who arranged the repair of Nikki's car.
Duncan said: "I was pretty shocked by what had happened and thought we could do something to help.
"Every so often we get the chance to give the students a 'real' job and, with guidance, they will work on the car.
"It's a real world situation which is a bit different from working on MoT failures and such like and it gives them a little bit of extra pressure when working on someone's car.
"The scratches were deep and the students repaired the front wing, front door and back door. They did really well and we are very happy with the finished car, and happy to be able to help Nikki."
Nikki said: "I am over the moon and honestly can't thank Duncan and his students enough."
"I had planned an afternoon tea as my own treat to the ladies and gents in the group and had saved up for that, but then thought the money would have to be spent on repairing the car.
"It can now go ahead later in the year thanks to Duncan and his students, so I'm delighted."