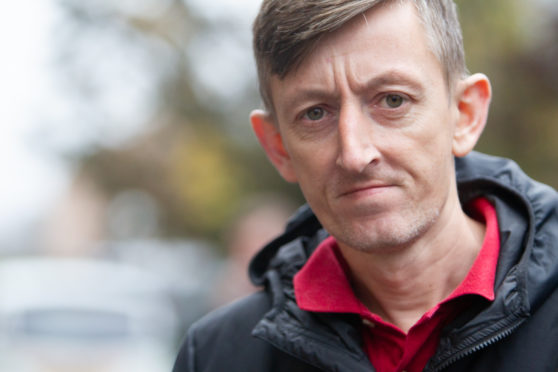 A self-styled paedophile hunter has been given his "very last opportunity" to cooperate with court orders or face being remanded.
Gordon Buchan, 40, was due to appear in Forfar Sheriff Court along with his son Jay, 19, on February 13, but warrants were issued for their arrest when they failed to turn up on time.
Dad and son from Wolf Pack Hunters UK locked up after turning up late for Forfar court case
The pair, both of Glenfinnan Road, Glasgow, were arrested at court the same day when they did arrive.
The father and son were due to appear with Karen Ferry, 48, of Lilac Avenue, Dalkeith, and Marcin Kuciak, 39, of Easter Drylaw Place, Edinburgh.
Ferry did appear before Sheriff Gregor Murray on February 13, but Kuciak did not and a warrant was issued for his arrest as well.
All had previously pled guilty to breach of the peace at Old Halkerton Road, Forfar, on August 15 2018.
They admitted attending the street as a group, behaving in an offensive manner, presenting banners and, with hoods over their heads and faces masked, shouting, swearing and making offensive remarks while broadcasting their behaviour live on social media.
The incident, carried out as part of the Wolf Pack Hunters UK group, caused a major police response and the initial arrest of six people.
A video of the incident on the group's Facebook page was viewed more than 25,000 times before being taken down.
Buchan Jnr and Snr appeared from custody at Forfar Sheriff Court on February 14.
Sheriff Derek Reekie became exasperated at an increasingly confusing timeline regarding social work appointments that Buchan Snr had missed.
The appointments were for reports to be prepared ahead of sentencing.
Buchan Snr had apparently had a panic attack the night before one appointment on February 3, but Sheriff Reekie pointed out he had sent an email stating that appointment was "not suitable" the previous week.
The court also heard that Buchan Snr has issues receiving mail as he lives in a block of flats with 14 floors, but the lift only goes to the 13th floor.
But Sheriff Reekie dismissed this, noting that Buchan Snr's solicitors had also received the dates because of the lift situation and that Buchan Jnr, who lives in the same address, had attended his appointments.
Sheriff Reekie said: "I have every reason to remand you. Not only are the reasons given for your absence improbable but they contradict each other.
"But I have to take everything I am told with a pinch of salt given everything you have told me.
"If you do not attend for any reason that is not valid, you will be remanded in custody until the report is completed and you are sentenced.
"I am giving you a considerable degree of latitude."
Buchan Snr agreed to turn up for a social work meeting in Glasgow on February 19 and was ordered to appear at Forfar Sheriff Court the next day to confirm he had done so.
Sheriff Reekie added: "I appreciate this is a lot of travelling, but you have put yourself in this position."
Buchan Snr was released on bail with the special condition to attend the social work appointment.
Buchan Jnr was released on bail under standard conditions.
All four are set to be sentenced on March 5.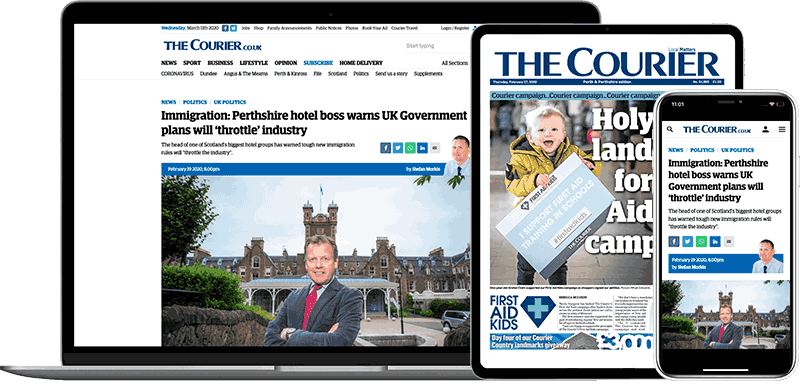 Help support quality local journalism … become a digital subscriber to The Courier
For as little as £5.99 a month you can access all of our content, including Premium articles.
Subscribe