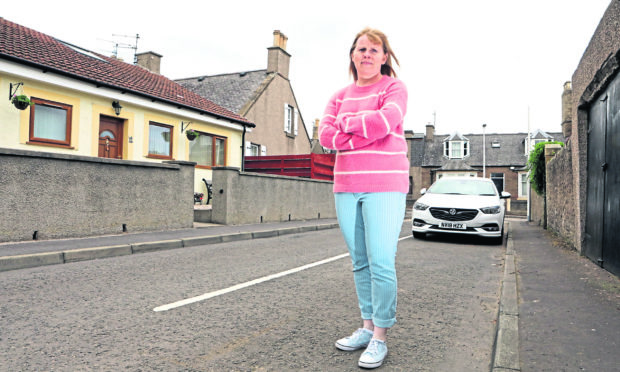 A Carnoustie woman was heartbroken to find her beloved motorbike stolen and damaged beyond repair following a crime spree in the town this week.
Teacher Elaine Scott, 41, saved up for four years to buy her "dream" bike last year, a Suzuki Burgman 650 cost which her about £4,000.
The bike was stolen from Collier Street at some point overnight on May 20-21 and found ditched in a narrow lane about a quarter of a mile away from Elaine's home.
It was one of several incidents of theft that night.
Homes broken into, car stolen, and motorcycle taken and wrecked during overnight Carnoustie crime spree
A grey Volkswagen Polo was taken from a home on Burnside Street on the same night. A TV, iPad, bank cards and cash were also taken from the property.
Items were also stolen from a Dacia Sandero parked on Burnside Street.
Also in Collier Street, an iPhone charger was taken from a Vauxhall Insignia and items were stolen from a Mini which was broken down on Terrace Road.
Two men were filmed on CCTV entering a home on Bonella Street before stealing a smart meter and three jackets.
Elaine, who teaches at Morgan Academy, said: "I am absolutely gutted. Not only was it my dream bike, but it was my main mode of transport to get to work. I am a key worker so now I am having to get public transport.
"The insurance company took it away and have since told me it's likely it will need to be scrapped because of the damage.
"I think they must have ditched it because they didn't have the key so had trouble starting it.
"It's the exact bike I have always wanted. The thieves don't care what it means to someone. Who knows what they think."
On Burnside Street, pensioners Peter and Margaret Murray woke up to find their house was broken into.
Peter, 85, said: "We slept through the whole thing. When I got up, I saw the TV was gone, which was quite a shock.
"Then I saw the car keys were missing so I went to the garage and to my horror that was stolen.
"The police have been in touch today to tell me they think the car has been found, so we're over the moon about that.
"I don't think there is any damage, but we haven't seen it yet as the police need to run tests.
"There's never really been anything like this happen before and we're just getting over it. It takes the wind out of your sails."
One of the men caught on CCTV had short, dark hair and was wearing dark trainers. The second man had a hood drawn over his face and was wearing white shoes.
Both were wearing light coloured jackets and trousers.
A police spokesperson said: "While we cannot for certain say these crimes are linked… there is a good likelihood at least some of them are.
"Some of the crimes were opportunistic, so please ensure your homes and vehicles are fully locked and secured overnight."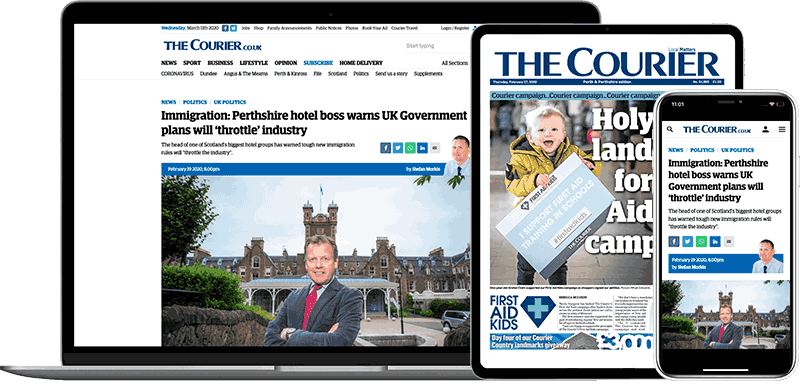 Help support quality local journalism … become a digital subscriber to The Courier
For as little as £5.99 a month you can access all of our content, including Premium articles.
Subscribe