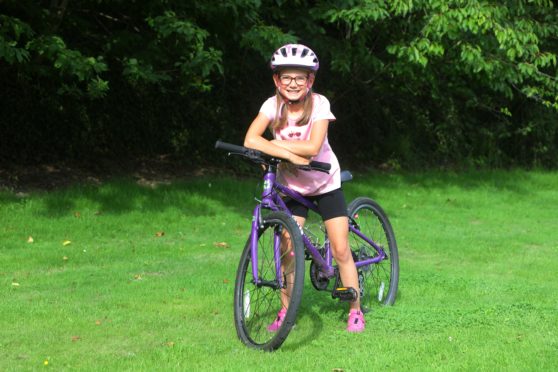 A seven-year-old Angus primary pupil is celebrating cycling 1,000 miles during lockdown.
Murroes pupil Katie McBride recorded the massive mileage in her journal — pedalling out on rides of between 10 and 30 miles most days between the end of March and last weekend.
The young cyclist managed to pedal a distance equivalent from Dundee to Zurich, Switzerland.
She said she had been cycling mostly with her mum and dad, with little brother Rory tagging along in a seat attached to dad's wheels.
She said: "My new bike is purple, which is my favourite colour.
"Sometimes I was the fastest, but most of the time it was mum and dad.
"It was a great way to keep busy during lockdown and I felt really happy (to reach 1,000 miles).
Katie's 1,000 mile adventure started off with local rides, but stretched out to Inverness, the Kelpies in Falkirk and the Forth Road Bridge — as travel restrictions lifted – and she notched-up her thousandth milestone last Saturday.
Beaming father Scott McBride, a computing studies teacher at Dundee High School, said he was "immensely proud" of his daughter's achievement after the family set the monthly cycling targets for a bit of fun while stuck at home.
He said: "She's kept all the details in her journal, which she was keeping for her school work.
"We chose to set a monthly mileage for something to do as a family and we decided on 200 miles for Katie and 300 miles for me.
"Before we knew it, we were at 400, then 800, then 1,000 miles. We just kept going and going."
He said one of the biggest challenges had been finding Katie a new bike to ride during the lockdown bike buying frenzy, once he realised she had outgrown her trusty Carrera.
"It was not the easiest process, but we managed.
"She has done a lot of miles. It's the equivalent of cycling to Switzerland and coming up just short of Zurich.
"She enjoyed the challenge. She just kept plodding away. Some days she was faster than me.
"Even on the longer days, when we managed around 30 miles, she wasn't knackered. We are hoping to get her into more road cycling as she gets a bit older."