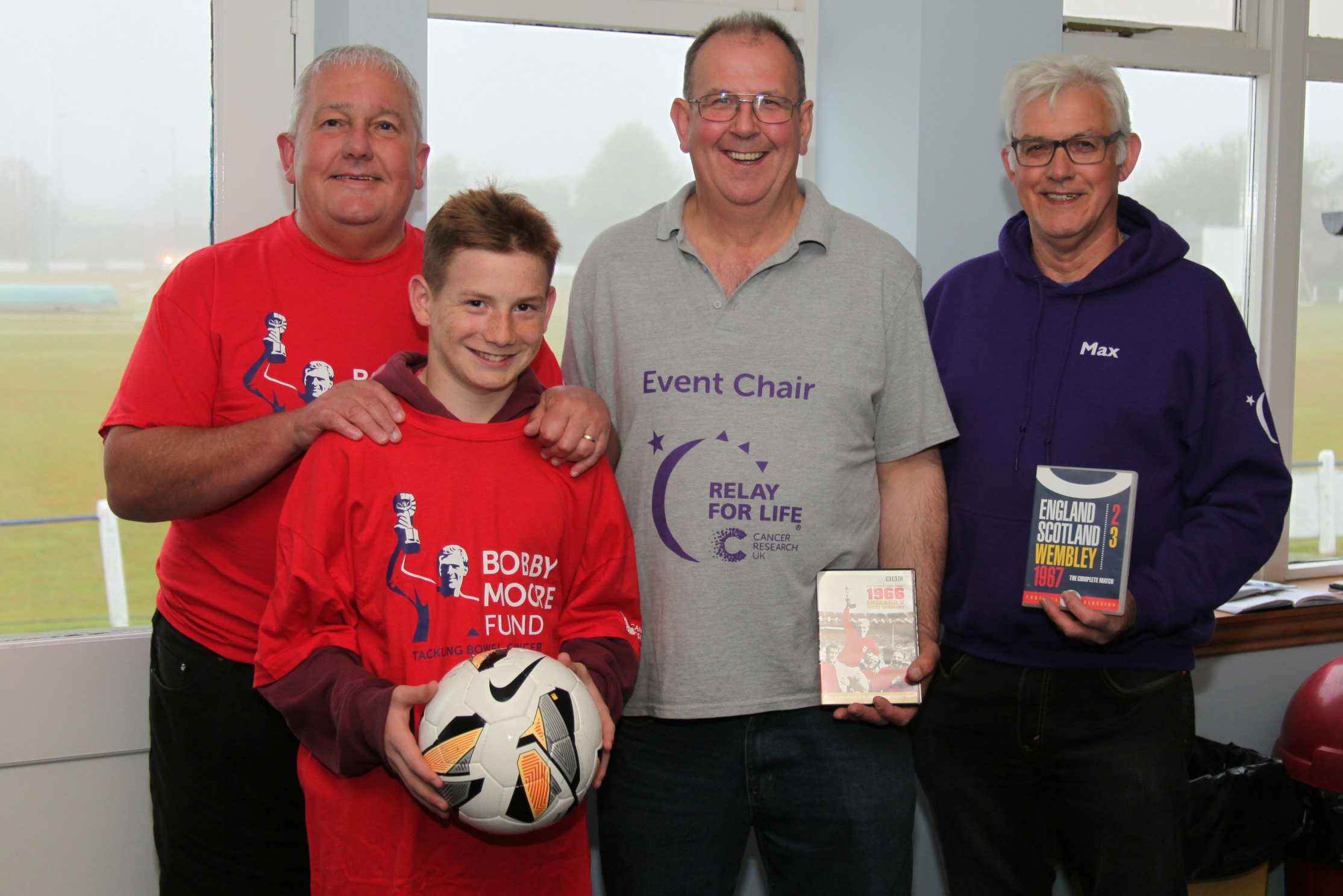 It is a memory that some Scottish football fans would rather forget, and a TV punditry standard that sets teeth on edge around the world.
But a squad of hardened charity volunteers are hoping to drum up support for reliving England's 1966 World Cup victory – for 12 hours straight.
The large-screen marathon takes place overnight at the Arbroath United Cricket Club on July 29 — with the first of many kick-offs at 8pm.
Few might relish the marathon feat, as the famous 4-2 win over Germany approaches its 50th anniversary on July 30, especially on the heels of the European Championship in France.
The large-screen marathon takes place overnight at the Arbroath United Cricket Club on July 29 – with the first of many kick-offs at 8pm.
But, according to the Arbroath chairman of Cancer Research UK's Relay for Life, some good can come from another major football tournament that Scotland was not represented at.
And Ian Angus said there will be a sweetener for those who can watch the game "from between our fingers" – a showing of the 1967 European Championship qualifier between England and Scotland at Wembley, which the visitors won 3-2.
https://www.youtube.com/watch?v=AJMtw3J8VoM
"We Scotland fans can either grin and bear it, or embrace the occasion while raising money for a very worthwhile cause," said Ian.
"Relay for Life are asking people to pick up sponsor sheets and get themselves sponsored to watch these football matches in an all-night session.
"They can get family, friends, colleagues, and complete strangers to sponsor them to watch a rerun of the 1866 World Cup final repeatedly for 12 hours overnight.
"As a wee bonus for those who survive the ordeal, we will finish the session with a double rerun of the famous match between the Auld Enemies, 12 months later.
"And the challenge for England fans is to join in the fun as we watch the match from between our fingers — till the roles are reversed for the final part of the evening as we watch the rerun of Wembley 1967 when the Scots beat England on their home turf to become unofficial world champions as the first team to beat England since the '66 final."
This year's Arbroath Relay for Life takes place on September 17, and more than £21,000 has been raised towards its £87,000 target.
Visit http://relay.cancerresearchuk.org/ for more information, and sponsor forms can be obtained through Mr Angus at ianangus56@gmail.com.
The Wembley Wizards
Scotland travelled to face European Championship qualifying group opponents England on April 11 1967 and came away with a 3-2 victory.
Despite the famous result, which pundits said won Scotland the title of "unofficial world champions", the team finished the group one point behind England, after a return leg draw and a loss to Northern Ireland.
It would be another seven years before another major tournament qualification.
The 1967 Wembley Wizards starting side is generally regarded as the finest in Scotland history and comprised of: Ronnie Simpson, Eddie McCreadie, Archie Gemmell, John Greig, Ronnie McKinnon, Willie Wallace, Jim Baxter, Billy Bremner, Jim McCalliog, Dennis Law, and Bobby Lennox.
Their opposite numbers were: Gordon Banks, George Cohen, Ray Wilson, Nobby Stiles, Jack Charlton, Bobby Moore, Alan Ball, Jimmy Greaves, Bobby Charlton, Geoff Hurst, and Martin Peters.