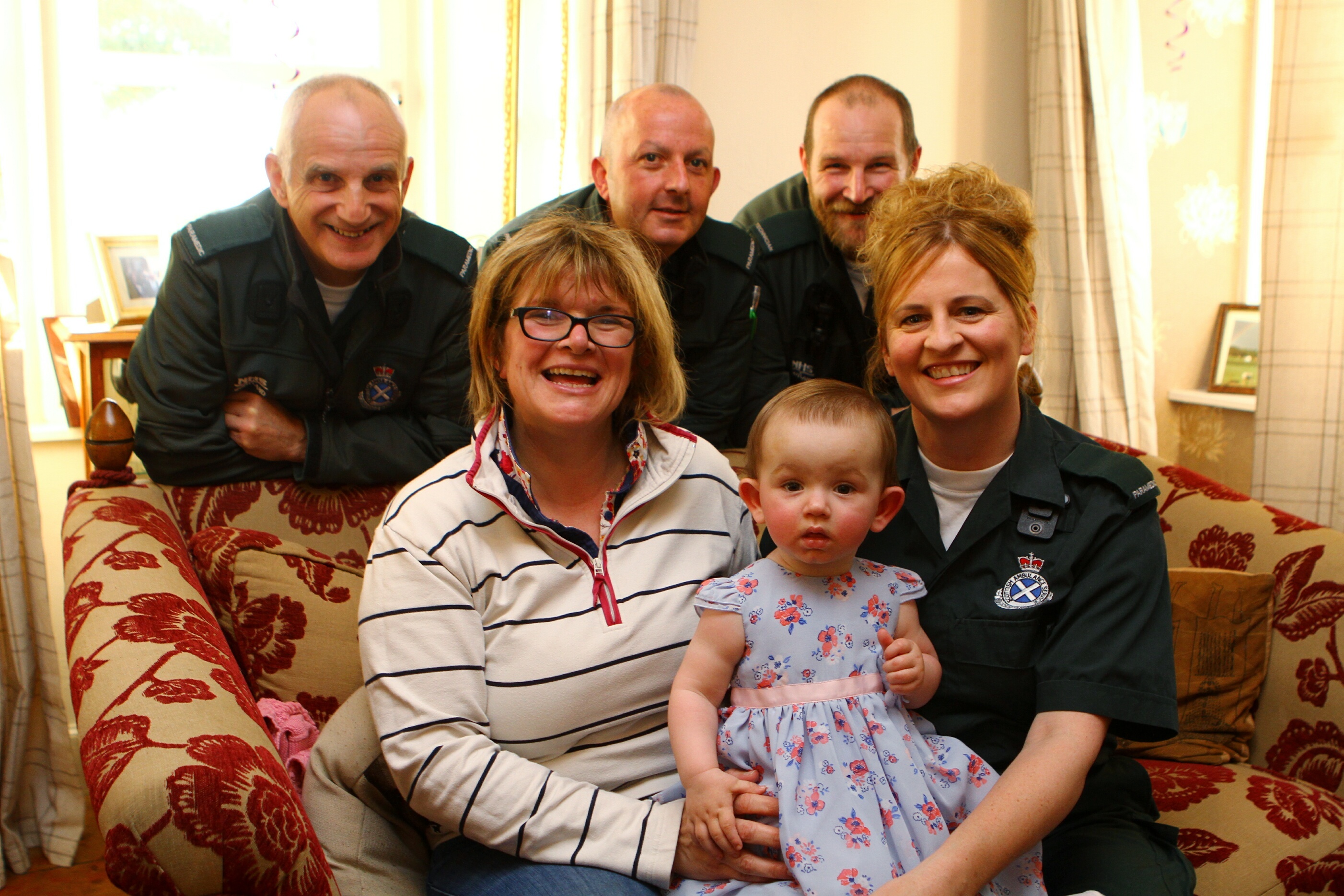 Just moments into her fragile life, baby Darcy was on the brink of death, receiving CPR in an ambulance at the roadside.
Her mother Claire Fleming from Lintrathen in Angus had been unaware she was pregnant but by the time she called her mother had realised something was wrong.
Darcy was in breach position and in serious danger.
Paramedics rushed Claire towards Ninewells Hospital in Dundee but the six pounds nine girl was born beside a muddy road near Alyth, without a heartbeat.
The ambulance crew who saved her life that day 12 months ago were yesterday reunited with the tot on her first birthday at a special family celebration.
Claire Fleming, 36, said she had been helping a farrier shoe horses when she began feeling pains.
At first she thought it was a sickness bug, then when the pains became worse, she worried it was appendicitis.
"If you're not expecting a baby then you don't associate the pain with that," she said.
"My mum lives nearby and I had already called her to see if she could come when I started feeling pain.
"Seeing the feet was the first realisation that it was a baby.
"By the time my mum got here I was already on the phone to the ambulance. I just tried to stay calm."
As they waited for an ambulance to come, a nearby retired doctor Mike Morris had also come to help.
When paramedics Stuart Wilkie and Angela McKenzie arrived they realised they would need special assistance due to the birth being breach.
"They decided I'd have to go to Ninewells Hospital and I was on gas and air. But on the way to Alyth we stopped in a lay-by because I couldn't hang on anymore.
"The legs were out and Darcy was stuck by her chin before she was born in the lay-by."
By this point another ambulance had arrived at the rural road with paramedics Morna Vannet and Steven Dryden.
Located around half an hour from Ninewells, the situation became gravely serious when Darcy didn't have a heartbeat after she was delivered.
Paramedic Stuart Wilkie recalled: "It was a very stressful, upsetting situation to be involved in but we're trained in CPR and did everything we could to get her breathing again, which thankfully she did.
"As soon as we got to Ninewells she was immediately taken into the Special Care Baby Unit for monitoring.
"All of us that were there that day are so pleased to see Darcy is doing so well and her lovely family so happy".
Darcy was cooled down to 32 degrees to reduce the chances of brain damage before she was warmed up again and she remained in the Special Baby Unit at Ninewells Hospital for three weeks before she was released home.
Claire said Darcy is doing well and  wanted to give the paramedics and medical staff at Ninewells recognition for their work.
She said: "She's checked every three months until she's two. She's just had an appointment and everyone is pleased with her progress.
"There is no doubt in my mind that that the outcome could have been so different for Darcy had the ambulance crews, Dr Morris and the staff at the hospital had not worked their magic.
"To say it was the most shocking and most memorable day in my life is an understatement – it was totally unexpected, hugely emotional but ultimately, I have the most incredible little girl anybody could wish for.
"I think those horseshoes that morning must have brought me luck."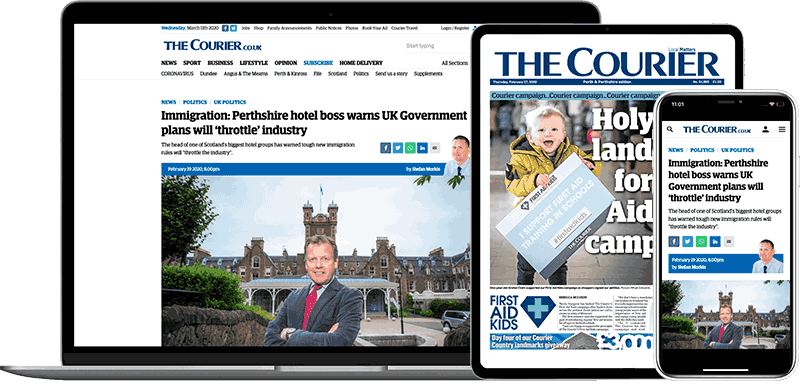 Help support quality local journalism … become a digital subscriber to The Courier
For as little as £5.99 a month you can access all of our content, including Premium articles.
Subscribe