A New Zealand couple plan to take to the high seas to trace the 'journey' of an ancient tartan which disappeared from an Angus castle.
Robyn MacIntosh-Handtschoewercker and husband Jean-Claude's adventure would begin at Culloden before chartering a boat from Dundee to Norway.
The Wanaka artist and art teacher wants to produce a series of drawings and artworks tracing the tartan's journey which would eventually end up in a book.
Family lore has it ancestor John Ogilvy was a supporter of Bonnie Prince Charlie and wore the tartan prior to the famous battle and the defeat of Charlie's Jacobite army.
Ogilvy escaped to France and his plaid disappeared.
Robyn claims it resurfaced in the 1800s, eventually entering the hands of family in New Zealand, where it was kept in a bank vault.
In 1998, Robyn's aunt asked her to send the tartan to the family's ancestral home at Cortachy Castle near Kirriemuir for safe-keeping and possible public display.
But it went missing and has never resurfaced.
Robyn said: "As I thought about what I could do in the face of the plaid's loss I came across a quote: 'an artist is never helpless'.
"I thought how our old Scottish Highlanders knew how to lament – a powerful art form in itself.
"I made a submission to the Pollock-Krasner Foundation in New York for a grant and sent art examples and the story of the plaid.
"The journey would of course begin at Culloden.
"The family story is that our ancestor escaped to Norway by boat from Dundee with three others and eventually made his way to France where he joined the Ogilvy regiment there and later returned to Scotland.
"We can only assume he took the plaid with him as it surfaced with him later in Scotland.
"We want to follow that journey – even to taking a boat to Norway.
"My husband is a French sea captain and marine engineer and we have spent a lot of time at sea."
After Culloden, Jacobite supporters found themselves in considerable danger from the victor, the Duke of Cumberland, who became known as Butcher Cumberland.
Anyone found with such a plaid in 1746 could be killed and have their lands confiscated.
Robyn said: "It matters to me as I was given guardianship of the plaid.
"I don't spend my days in misery over it but I think of the disrespect shown to my little aunt and her generosity.
"She believed this belonged to the Scottish people."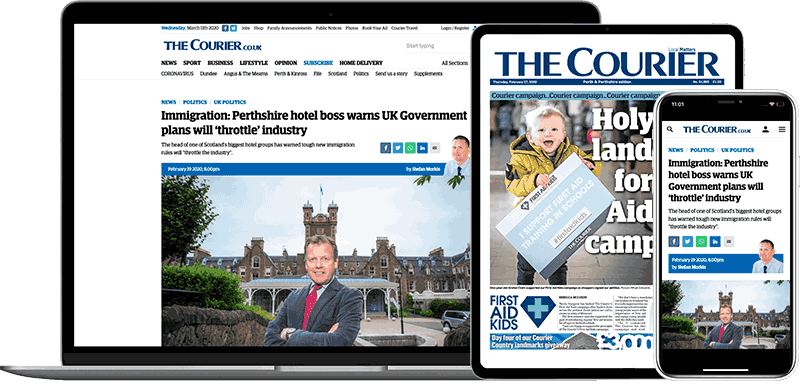 Help support quality local journalism … become a digital subscriber to The Courier
For as little as £5.99 a month you can access all of our content, including Premium articles.
Subscribe