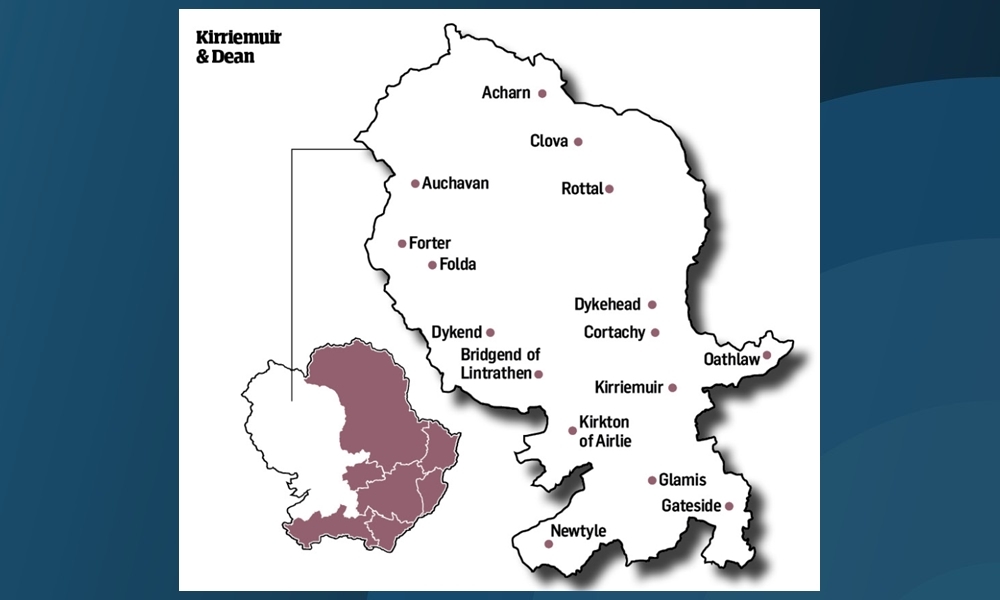 Kirriemuir and Dean sees one of the more intriguing and competitive battles for council seats.
Council leader Iain Gaul has decided not to stand for re-election after 14 years as a councillor and rivals to the SNP party are sensing an opportunity to gain his seat.
Six people will compete for three council seats, compared to just four contenders in 2012.
It is the only council ward in which the Conservatives are fielding two candidates, with incumbent Ronnie Proctor joined by Angus Macmillan Douglas.
Current SNP councillor Jeanette Gaul is joined by Julie Bell. The Liberal Democrat candidate is Liz Petrie and Labour is fielding Gordon Watson.
Kirriemuir has benefited from major investment through the Conservation Area Regeneration Scheme which has improved the appearance of buildings in the town.
The town has also focused on becoming dementia friendly, with the development of a community hub and opening of a sensory garden as part of the £250,000 initiative.
The closure of the recycling centre in Kirriemuir has been a hot topic in the town, with a replacement centre to serve people in Kirrie and Forfar likely to be sited in Padanaram.
There have also been concerns about loss of other local amenities in the town, with a community asset transfer plan currently being put together for the former Failrie House council complex.
In recent years Kirrie has also seen the closure of its Royal Bank of Scotland branch, with the TSB also warning customers that it will be closing its branch in the town in June.
With the ward taking in many remote homes, it also has a number of people who have been affected by the council's decision to stop some food waste collection services.
---
Candidate profiles
The Courier invited each candidate to submit a short introduction to themselves and, if they wished, a video explaining why they deserve your vote.
Julie Bell (SNP)
I want to change how we deliver local democracy and we need to engage more women in politics to properly reflect society and to achieve that. Women make up 52% of the population, after all. So I decided to get involved and the SNP was a natural home – I've been a voter all my life.
Working with people and partnerships are my strengths, I think, from years of working in broadcasting, the health service and local government. I've campaigned on mental health and wellbeing for years too, and I have my own small therapy practice.
Local elections are absolutely critical to our day-to-day lives. We need to work harder to connect people with councils and our local services – schools and learning, housing, health and social care, for example. We need to listen and learn, to be inclusive and co-operative. I've already been having those conversations locally, about doing politics differently.
Jeanette Gaul (SNP)
I was first elected to Angus Council in 2012. Since then I have worked with many community and business groups, listening to their views, putting successful strategies into action and helping to deliver the best possible services to the people of Kirriemuir and Dean in the face of unprecedented financial challenges.
I have represented Kirriemuir and Dean through Angus Council on the Cairngorms National Park. I am a member of the Dementia Friendly Steering Group and Kirriemuir Area Partnership.
When first elected my only promise to the residents of Kirriemuir and Dean was to work hard for them.
My promise for this election is to work hard for the residents of Kirriemuir and Dean again.
Angus Macmillan Douglas (Conservative)
Since December, I have visited some 2,500 residents throughout our ward – from the Glens to Newtyle to Kirriemuir.
People raise issues of great concern: the proposed closure of the Kirriemuir Recycling Centre; cuts to social services, which frighten the elderly and vulnerable; council tax increases at a time of service cuts; and substantial increases in business rates, which threaten jobs.
This at a time when Kirriemuir has lost the RBS and businesses are at risk.
I wish you to elect me, so I can try my utmost to stop this decline.
I was raised locally at Douglastown and fortunate to become a divisional director of BP, director of the Scottish Blood Service and finance chair of Abertay University.
I have a record of success. I shall be accessible to residents and use my business experience to help Angus Council run our essential services effectively and treat council employees with respect.
Liz Petrie (Lib Dem)
I knew from an early age that what I really wanted to do was paint. I got my diploma at Duncan of Jordanstone College and I've been a professional artist ever since.
Along the way I've had other jobs too – raising children was the hardest but I'm proud of the results! Plants are great too, I love gardening.
For many years I did interviews for a national market research company. Whatever topic I was asking about, people gave me the added benefit of their views on politics.
I realised we all want the same things from our council – proper health and social care, good schools, safe roads, recycling centres, reliable bin collections, and enough homes for everyone at rents we can afford. Not a lot to ask.
As a Liberal Democrat, I campaign for everyone to have these things because everyone deserves them.
Ronnie Proctor (Conservative)
I was born and brought up in Kirriemuir and attended Webster's Seminary, joining the army aged 15.
I spent nearly 40 years in The Black Watch, working my way from junior private to major. I was awarded the MBE in 1992.
Since retiring from active service I have assisted serving soldiers and veterans with welfare issues. For five years I have been veterans' champion for Angus Council, which I find worthwhile and rewarding.
Local concerns are paramount and I have supported many initiatives, assisted with housing, school and road safety issues and assisting those affected by flooding.
If re-elected I would strive for maximum value for money for council taxpayers and more fiscal freedom for local authorities; press for fair, affordable business rates to help local businesses survive; revisit recycling centre proposals; strive to improve rural broadband; and press for regulation of parking by council wardens once legislation becomes effective.
Gordon Watson (Labour)
Originally from Sunderland, I have worked and raised my family in Angus for over 40 years.
I have had a long career in social work and childcare, therefore having a wide knowledge of the infrastructure of the local authority.
I was an active trade unionist in Unison and continue in this role by representing retired members.
This election is about making your voice heard at local level not about independence.
My priorities if I am elected as your councillor will be education (to ensure schools are fully staffed), NHS social care (to fight cuts to local health services and care of the elderly), housing (to ensure the building of more affordable homes in our area) and to hold the council to account.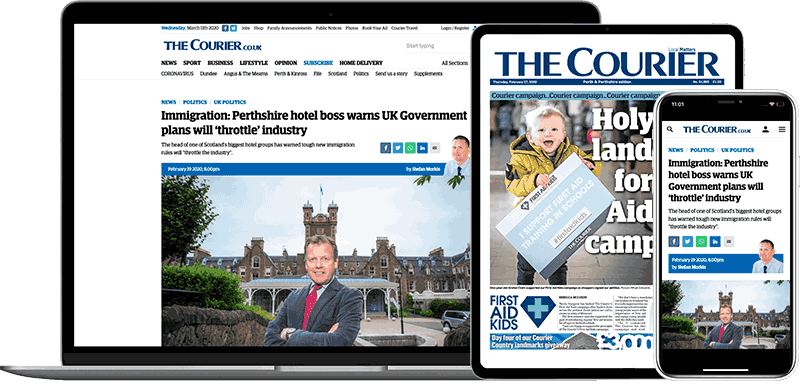 Help support quality local journalism … become a digital subscriber to The Courier
For as little as £5.99 a month you can access all of our content, including Premium articles.
Subscribe