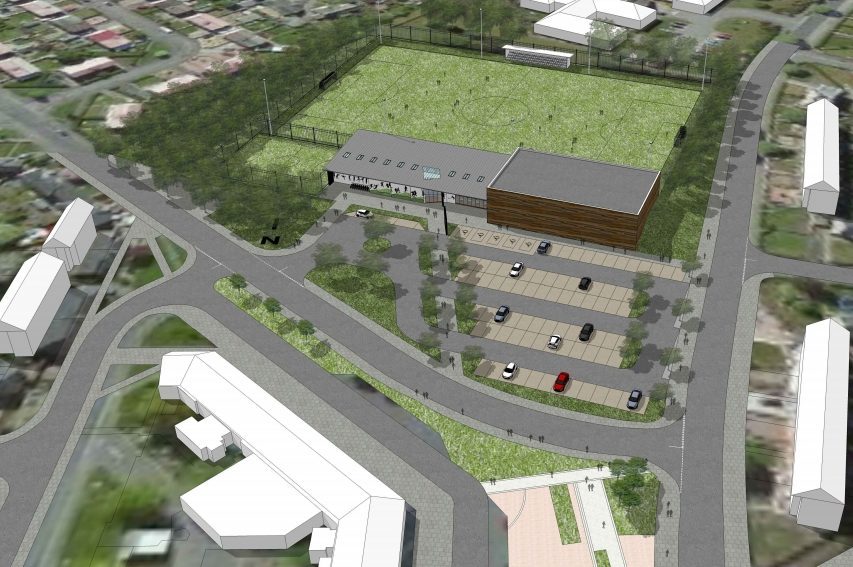 A decade-long campaign to fund a multi-million pound leisure facility in Angus will reach the finish line next week.
Plans to redevelop Seaton Park in Arbroath would result in a community and sporting asset that backers consider "unique outside Glasgow and Aberdeen".
Environmental health chiefs have asked for lighting and sound controls if plans are approved, including prohibition of "louder" sports like hockey and measures to address foul language.
The Arbroath Residents of Cliffburn and Hayshead group first asked those around Seaton Park what they wanted there in 2007.
This resulted in a campaign alongside Tayside charity Showcase the Street, which appointed the Voigt Partnership to develop ideas for an indoor arena for sports, leisure and community projects.
The centre will replace the football pitch, formerly the home of Arbroath Sporting Club, with a hall, cafe, office and rooms, changing facilities, and a floodlit 11-a-side 3G pitch for a range of sports, along with a warm-up area.
On May 30, the first Angus Council development standards committee meeting to take place since the local government election will be told two sides of the all-weather pitch should be bound by a wall to soak up "intrusive" noise.
Pedro Rodrigues for consultants CSP Acoustics commented: "Sport pitch noise at dwellings to the south and east are likely to result in unacceptable levels of impact, and mitigation measures will be required in the development design to reduce this.
"It is recommended that predicted sports pitch noise levels should be reduced by the introduction of a noise control barrier located at the south and east boundary of the proposed development site."
Light would be dealt with under separate conditions.
Showcase the Street received £25,000 from the Legacy 2014 Sustainable Sport for Communities Fund to further their plans to take on the ownership and management of Seaton Park.
Chairman Fergus Storrier previously said he has studied similar projects by Edinburgh Spartans and Broxburn AFC, which have made a "real difference" to their communities.
He added: "We were delighted to be given an opportunity to take this project forward and as Seaton Park already has a history of football it is great we can combine a community facility which will support one of the most deprived areas of Angus as well as supporting the wider community of Arbroath."