American bounty hunter Christian Matlock, originally from Brechin, speaks exclusively to Michael Alexander about how a recent BBC Scotland documentary has changed his life.
He was portrayed as the 'bad boy' from Brechin and cited his chaotic early life in Angus for giving him the skills to do the dangerous job he does now – hunting and apprehending fugitives who have skipped bail.
But nothing could prepare Christian Matlock for the "insane" global reaction to the fly-on-the-wall BBC Scotland film, The Scottish Bounty Hunter, which followed the tattoo-covered, 6ft 2 inches tall 29-year-old through the drug-ravaged lands of his adopted homeland in the north east USA.
https://www.youtube.com/watch?v=e9aVnxaZug4
In the weeks after the screening in February, he was "inundated" with messages from thousands of UK parents concerned that their own children were going "off the rails" and wondered if he would speak with them.
He has since landed a contract to model "cowboy themed" beard grooming products in the USA, has been recruited as an actor and consultant for a bounty hunter movie due to start filming in London early next year, and has also set up his own website onlymatlock.com which he is offering as a tool to help small businesses advertise in the UK.
Perhaps the biggest life-changing experience came in April, however, when he became a first-time-father to Elizabeth – and this change of priorities has made him question for how much longer he wants to continue in the dangerous world of bounty hunting.
"What came out of The Scottish Bounty Hunter has been incredible – it's been insane," says Christian in an exclusive interview from Virginia, USA, where he has been out on the road after another day pursuing fugitives.
"One of the first things that happened was I started helping families across the United Kingdom.
"It's kind of surreal and to be honest I didn't know what to feel. People started asking me to send pictures and talks to kids and give them a phone.
"It was people who had gone down the wrong road, people whose kids had been hanging out with the wrong crowd or had no ambition.
"I had 1600 messages on Facebook one night. I phoned my mum and said 'I'm going to respond to every one of them', which I did.
"My advice was that anything is possible. You've just got to work hard at it.
"But I've also been getting a lot of requests from people wanting to be bounty hunters now and that's a bit more difficult.
"What they didn't tell you on the telly programme is that you have to be a United States citizen to be a bounty hunter. That disqualifies a lot of people.
"It's also not something I would encourage people to pursue because we don't have a very long lifespan here.
"They'll shoot you for any reason. It's increasingly unsafe to wear a badge."
The Scottish Bounty Hunter delved below the stereotype of a Bail Enforcement Agent to show the unique relationships Christian has built with some of the people he comes across, from offenders with drug addiction to their families striving to get back to a normal life.
He operates in some of the most deprived areas of Virginia where everyone he pursues is either a criminal, a suspect or simply at the end of their luck.
The former Brechin High School pupil who was brought up as Christian Allday by his mother Lesley, told The Courier how moving to America to find his former Edzell-based American Marine father Ricky Matlock, when he was 21 probably saved his life, because he was increasingly in trouble with the law at home in Scotland.
He insists friends and family remain very supportive – despite some local media coverage after the programme criticising him for portraying Brechin in a negative light.
While he recently sold his own bail bonds business, he is still contracted by bandsmen – moneylenders who offer to cover bail money for people who can't afford it in exchange for a 10% commission.
Like a real-life version of something from the 1980s TV show The Fall Guy, if an accused fails to appear in court, the bandsman loses the entire sum unless a bounty hunter like Christian can track the fugitive down.
Yet fatherhood has made him "re-think" his priorities and, while he will likely renew his bounty hunting licence in September having invested so much time over the years, he would consider giving it up if his new-found modelling career takes off.
"It's kind of nuts what happened with the modelling," he adds. "I'm working for a company called Gibs. I'm a published beard model now. It's an American company.
"The only reason I started talking to them was they do some work for cancer and I recently lost my grandfather to cancer. Next thing you know I'm all across the country getting my picture taken because I've got this thing growing out my face!
"I'm actually going to be the face of a new product getting released later this year. It's a beard oil. It's got a western, outlaw, type brand, which I think is why I was chosen. It's exciting!"
Christian has been contacted by production companies looking to do more bounty hunter reality TV.
He shied away from this when his daughter was born, adding: "I'm not interested in putting my private life back on the telly."
The movie, however, is different.
He continues: "I've signed a contract that I won't talk about it, but I can say I'm consulting to the director as a bounty hunting expert. I also have a little part in the background -some kind of gangster.
"It's coming from a line of movies that's definitely done well in the past. I've really got an interest in all this kind of stuff. Really everything I do now is for my daughter. It's funny how things work out."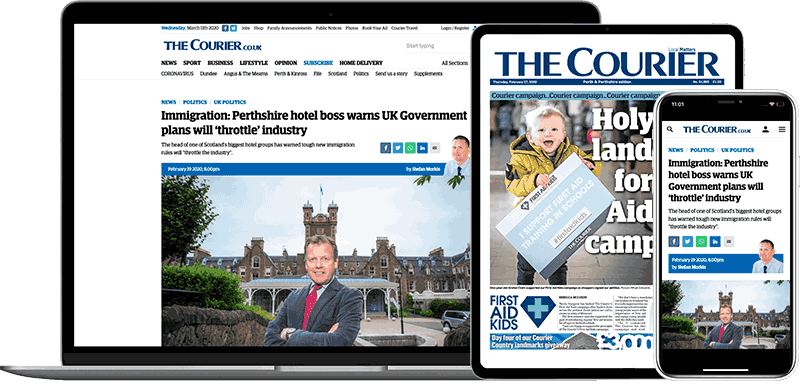 Help support quality local journalism … become a digital subscriber to The Courier
For as little as £5.99 a month you can access all of our content, including Premium articles.
Subscribe