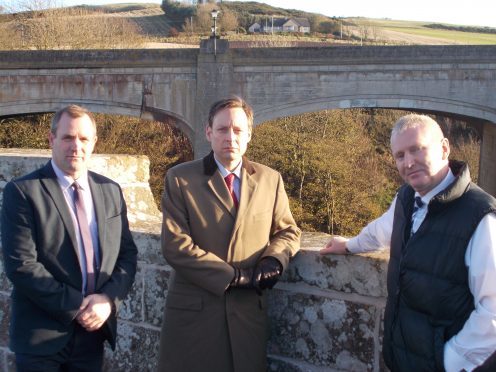 The main bridge out of Inverbervie on the A92 will have to be replaced after daylight appeared through cracks.
The curving Bervie bridge has served the community since 1935, having replaced the single-span bridge built in 1799.
Further investigations into the overall condition of the seven-arched bridge were carried out in the wake of concerns raised by Mearns Conservative councillor George Carr.
Mr Carr is concerned the bridge is deteriorating rapidly and said the local authority may need to seek funding for a replacement now, rather than spend less to patch the problem.
Its condition has been the subject of local concerns for several years.
Mr Carr said: "Aberdeenshire Council have had a report back from consultants Amey who have deemed that the 200-metre road bridge, which was opened in 1935 and carries the A92 over the Bervie water, will have to be replaced.
"I have been regularly asking questions on behalf of the community over several years now as to the state of this bridge.
"For some time now it has been evident that a problem exists as the brick work on top of the bridge has moved significantly and you can even see daylight through the gaps in the masonry."
The Jubilee Bridge has a number of unusual factors including its size and the fact it is on a radius curve.
It contains complex engineering properties including contraction and expansion, which is believed to be linked to the stonework moving.
Fellow Conservative Mearns councillor Jeff Hutchison said if the bridge needs to be replaced "then let's bite the bullet and get on with it".
"Officers have various options to undertake short-term remedial work, but we would be spending good money which would be better spent on replacing the bridge," he said.
"Currently there is already a restriction on any vehicle over 44 tonnes and it is likely temporary safety barriers will be installed for pedestrians very soon."
The councillors were accompanied on a site visit by North East Conservative MSP region Liam Kerr, who shared their concerns.
He said it was a vital road bridge serving the coastal Mearns communities and is an important link to the north from Montrose and further south.
Designed by R A McDonald & Partners of Glasgow and built by Charles Dion & Son of Monifieth, the bridge was named in honour of the 25th year of the reign of King George V.
It was opened in 1935 by the Viscount Arbuthnott, Lord Lieutenant of Kincardine.
The bridge was refurbished during a 40-week operation from in 2008.