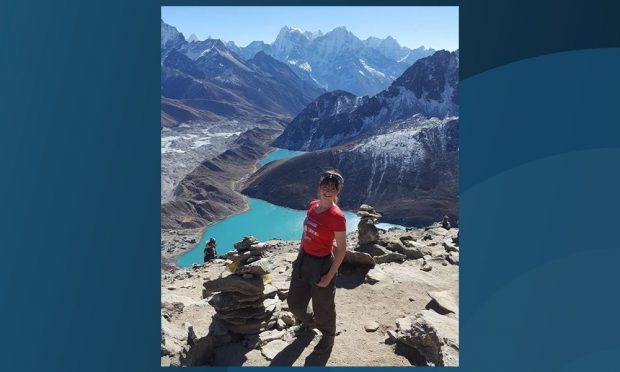 A Forfar woman has battled some of the toughest terrain in the world to raise money for ex-soldiers – all while suffering from altitude sickness.
Shauney Watson completed the Everest Marathon last month – a gruelling 26-mile race starting near Everest Base Camp – to raise money for HorseBack UK, an Aboyne-based charity that offers army personnel support through working with horses.
She spent several days climbing to the start line at Gorak Shep – which is at a altitude of 17,000 feet. Everyone taking part had to spend several days acclimatising to the atmosphere and Shauney was coping well – until the night before the race.
She started "projectile vomiting" and was up all night feeling "shaky".
Nevertheless, she impressively completed the race despite not feeling her best.
"I decided that I had come all this way so as long as I could stand I would do it," she said.
The horse riding instructor completed the race in nine hours and 25 minutes – longer than her anticipated eight hours but that was due to the illness.
She added: "At the end of the day, the Everest Marathon is not just about the running and the time, but it is about the people you meet on the way and about the person you find you can be when it comes down to it."
Shauney had to finish an ultra-marathon to prove she was capable of taking on the challenge. Two years of preparation went in before she stepped foot on the mountain range. She flew out on November 18 with the race taking place on November 27.
The Everest Marathon is listed in the Guinness World Records as the highest marathon in the world. Shauney competed in the 17th iteration of the race, first staged in 1987.
The inspiring 22-year-old completed her first marathon at the age of 19, raising money for Combat Stress that time.
"I was not ready to stop fundraising or doing challenges," she said. "I was looking for something a little more extreme. When I found the Everest Marathon that looked suitably mental.
"I don't have any links to the military, but I feel strongly about it.
"There isn't enough support in place for them when they come back, I think."
Her Just Giving page has raised £2,152 so far, beating her target of £2,000.
The 22-year-old thinks she is the youngest person to ever complete the Everest Marathon.