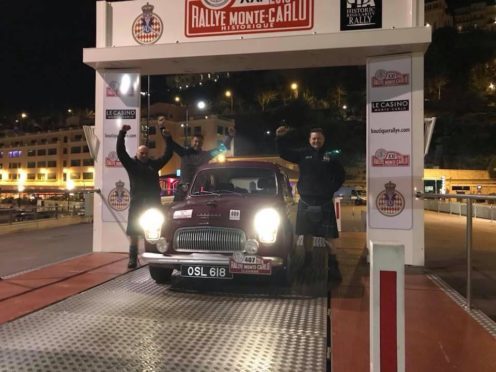 Angus rally first-timers have managed the full Monte with a flawless run to the glitz and glamour of Monaco in a major international motoring event.
Just five days after setting off from centuries-old Paisley Abbey as part of a convoy of classic cars on the historic Rallye Monte Carlo, friends David Tindal, Alan Falconer and Stephen Woods cruised across the finish line in the principality following a trouble free run in their 1956 Ford Prefect.
The Angus crew were participants in the classique category of an event which involves start points across Europe for enthusiasts in an array of machinery from the golden era of the original Monte Carlo rally.
David's 19-year-old son, Craig is the owner of the Prefect which the team agreed to restore in return for being able to tackle the event with it, and hours spent burning the midnight oil at the Tindal family firm of Carnoustie Tyres paid off on the trouble-free 2,000-mile trip.
The Angus men ran under the Kilts to Carlo banner to raise both funds and awareness for Prostate Scotland, with well over £1,000 raised so far, and David said the whole experience had been excellent from start to finish.
"It's been absolutely great – the car never missed a beat," he said.
"It was a full-on competition and there was one day we were driving non-stop for 24 hours, but the sense of camaraderie on the rally was great.
"There were very few breakdowns, but if someone had a problem there was always someone there to help get them going again.
"We did carry quite a lot of spares and tools but never had them out of the boot," added David.
The rally took in snow-covered alpine roads including the world famous 5,272 foot Col du Turini pass but the 1950s family saloon, christened Bella, cruised to her parc ferme position alongside Monaco harbour.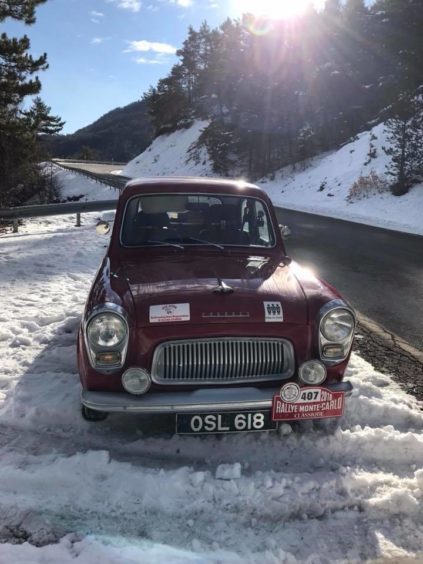 Big crowds saw the field depart from Paisley and the crews enjoyed a similarly enthusiastic reception in the south of France, before a black-tie celebration dinner in the Automobile Club de Monaco.
"The Kilts to Carlo theme went very well – I think we've been more photographed alongside our Ford Prefect than some of the cars worth hundreds of thousands of pounds," said David.