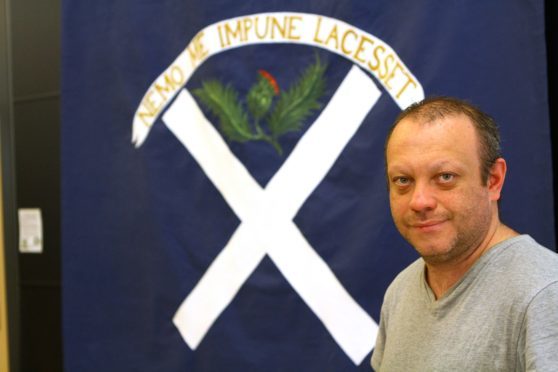 In April 1746 the Jacobite forces were decisively defeated by loyalist troops at the Battle of Culloden.
For the Ogilvy regiment it meant a miserable five-day 92 mile trek back to Angus.
This summer the retreat will be recreated by a 14-strong troop to raise funds for charity.
The trek has been inspired by a Kirriemuir family's efforts to save their three-year-old daughter's eyesight.
Caitlin Wilkie was born with rare genetic disorder Bardet-Biedl syndrome which means she is likely to lose her sight by the time she is a teenager.
She already wears glasses and struggles to see in low light.
Her parents, Liam and Ashley, have dedicated this year to fundraising for BBC UK, the UK's only registered charity dedicated to the disorder.
Leading the charity trek is Alex Robbie, who previously camped at the summit of Ben Nevis for a week for charity.
He said: "I love history, especially local history and I got the idea after reading a book about the Battle of Culloden in the bath one night.
"When it went wrong for the Jacobites on the field, everybody scattered home.
"The Ogilvy regiment was the only one that remained as a unit and they retreated back over the hills before disbanding at Clova Kirk at Glen Clova five days after the battle.
"I thought it would be fun to recreate our local regiment's retreat and tie it in with raising money for a great cause as well."
Alex said he hoped to raise around £4,000 with the adventure, which will start from the battlefield, east of Inverness, on June 1 and last for six days.
The group is planning to train together over several weekends.
The fundraising campaign for Caitlin has far exceeded the family's initial target of £5,000.
Dad Liam said: "We've been completely overwhelmed by the generosity. Kirrie's a small community but it comes together when it's a good cause.
"We are sitting at £18,000 just now, £20,000 with gift aid, and there are three or four fundraisers to come.
"The charity BBS UK is very small. It receives about £15,000 a year from grants and donations, so this is a huge amount of money for them.
"The chairman of the charity has been in touch. They said they've been keeping tabs on it and are over the moon at what we've done."
Part of the funds will be used for research into gene therapy at Great Ormond Street Hospital.
"The hope is that if the gene therapy gets a solution quick enough then Caitlin could be an ideal candidate for it if the sight degeneration hasn't struck too far," Liam added.
"If it doesn't help her then it will help plenty of others in the future."