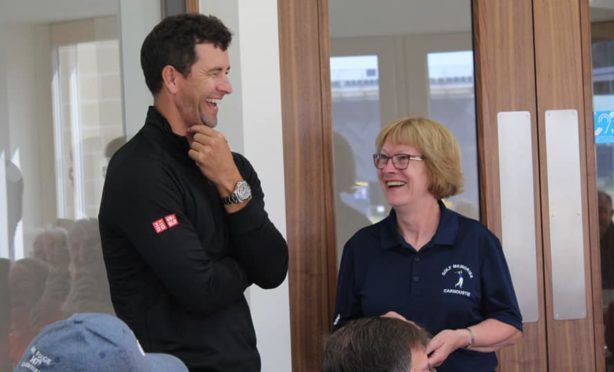 Masters champion Adam Scott has played a master stroke for members of Carnoustie's golf memories group as the countdown to the Open Championship over the Angus links gathers pace.
The Australian star made a surprise visit to the group, which meets weekly so people affected by dementia or memory loss can share personal experiences of the game and look back over some of the great names who have graced the world-famous course.
Members at this week's gathering in the new Links House base overlooking the championship course were surprised and delighted when Scott popped in to spend some time with them.
The star, whose most famous victory came when he claimed the US Masters green jacket in 2013, was in Angus as part of his build-up to the Open which tees off on July 15 – the day before his 38th birthday.
He spent time with members of the group – launched in 2015 – engaging them in conversation and learning about the events and activities they enjoy.
Golf Memories chairperson Lorraine Young said the unexpected visit by the former world number one was a real treat for members.
"Adam Scott coming into the group and spending as much time as he did was beyond our wildest dreams," said Lorraine.
"He immediately made himself totally at home with the members and took an extremely active interest in our programme."