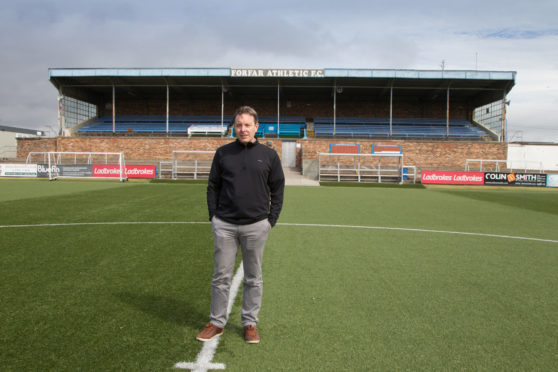 A Mearns author is hoping football fever ahead of the start of the new season will score him a backer for his latest offering.
Alex Russon, 48, a business banking manager with Barclays in Dundee, had hoped his fascinating insight into the trials and tribulations of Forfar Athletic's last season would be hot off the press ahead of the first game at Station Park.
But a change of personal circumstances and a lack of a backer has resulted in the book sitting on his computer awaiting publication.
Entitled "Sweet FA", it is Alex's latest book on a local football club and one which he hopes will net some financial backing for charity.
He said: "It's written, done and dusted, but I need a funder before it'll see the light of day.
"I am looking for a backer who could put up £2,000 to get the book published.
"The last two books I have written sold for £7 and we printed 750 copies.
"Once the £2,000 is re-paid the remainder will go to charity.
"I had thought of supporting the Scottish Football Association's Tartan Army's children's charity, but it could go to a local charity.
"I have done four of these books before and they paid for themselves with the rest of the proceeds going to charity.
"Hopefully someone will come forward who is interested in putting the money up-front.
"It would be a shame if it was published on-line as no charity would benefit."
Alex explained 'Sweet FA' was a positive look at the 2017-18 season for the Loons which showed the club in a good light.
It features interviews with then-chairman Ken Stewart, goalkeeper Marc McCallum from Forfar, club director David McGregor, club chaplain Brian Mulraine, Ian McPhee, the club's longest-serving player, Forfar Farmington chairman Colin Brown and groundsman Martin Gray.
Although Alex was born and raised in Birmingham, he moved to Stonehaven with his family when he was 12.
His mother, Joyce Sharpe, was born in Forfar and grew up in Green Street with her sister Moira and brother Charles and his granny lived in Canmore Street.
Anyone interested in backing Alex can contact him on alexrusson555@gmail.com