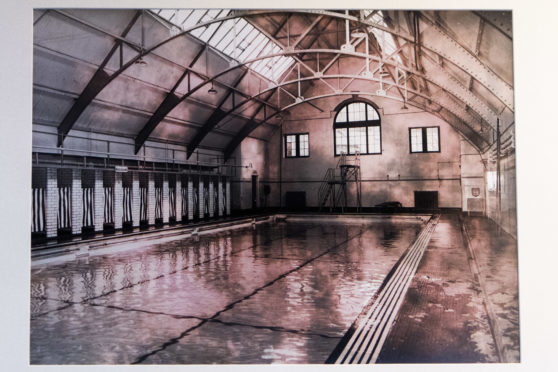 For sale signs are going up on unused Angus Council sites including Forfar's historic swimming pool.
Eighteen months after its closure and replacement with a six-lane, state-of-the-art pool at Forfar's £39million community campus, the distinctive sandstone building which housed the town baths for more than a century has finally been declared surplus to local authority requirements.
The Vennel building and the former Padanaram primary school between Forfar and Kirriemuir will be placed on the open market after sale plans were rubber-stamped by Angus policy and resources committee councillors.
At the same time, the committee agreed plans to offer Brechin's old leisure centre at The Inch for lease, and set the ball rolling on a proposal which could see playing fields at Seaton Road in Arbroath developed as an affordable housing site following a failed bid to create a community sports hub there.
Gifted to the town by Fife philanthropist Andrew Carnegie, Forfar's four-lane Victorian baths were built on a site donated by the town's Don Brothers textile firm.
Steel magnate Carnegie himself attended the official opening of the pool, where generations of locals learned to swim over its 107 year of service to the town.
The site at the foot of the Vennel being offered for sale will also include car parking associated with the old facility.
Padanaram School closed in 1996 and has been used since then as a store by the local authority.
An adjoining janitor's house was sold in 1991 by the former Tayside Regional Council and a burden of title restricting the use of the property to education use was also removed more than two decades ago.
In Brechin, the former leisure centre at The Inch was close following completion of the town's community campus in 2016.
Angus Council head of infrastructure, Ian Cochrane told councillors: "As the centre is built on common good ground and is subject to a ground lease, it is proposed to offer the property for lease on the open market, which will generate an income for the common good fund and general."
The official also confirmed the feasibility of affordable housing on the site on the former Arbroath playing fields is also being considered.
"The property was declared surplus to educational requirements in 2011," he said.
"Subsequently, the site was considered for a potential community asset transfer for the development of a community facility and sports hub.
"However, this did not proceed due to the applicant's inability to secure sufficient funding to take the project forward and the community group itself folding.
"Housing has an interest in the site for affordable housing and will investigate the feasibility of this further.
"A further report will follow in due course. If, however, the site proves not to be suitable for housing it will be advertised for sale on the open market," said Mr Cochrane.