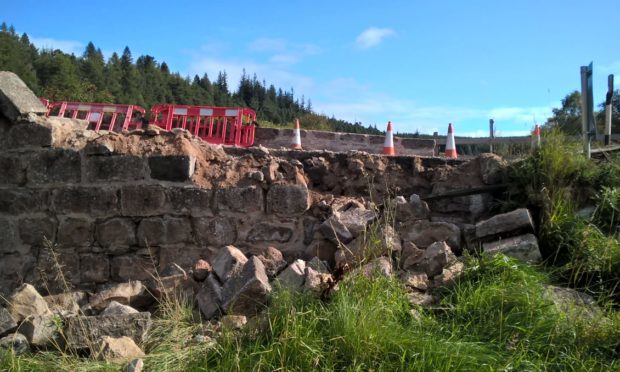 A busy rural road has been closed for four weeks following a crash.
The Cairn O'Mount road, which connects Fettercairn and Strachan, has been forced to shut after an articulated lorry collided with the Spittal Burn Bridge.
It experienced substantial damage to its parapet and has been deemed "unsafe" by Aberdeenshire Council engineers.
The lorry was left "dangling over the edge" of the structure following the crash, which took place either on Thursday morning or Wednesday evening.
Emergency repairs are required before the bridge can reopen.
The work is expected to take up to four weeks, but could be completed in two.
Locals are being asked to use the A957 Stonehaven to Crathes "Slug" road as an alternative.
Aberdeenshire Council structures manager Donald MacPherson said: "Sadly, this is not a rare occurrence on our network of historic bridges – we have a number which are regularly damaged by vehicles, leading to costly repairs, not all of which are recovered from insurers as the vehicles responsible are not always known.
B974 Cairn O Mount Road has been closed this morning due to an articulated lorry striking the Spital Bridge. The closure may have to stay on for a period of time as there may be no parapet left on one side of the bridge. @Aberdeenshire

— Aberdeenshire Roads (@AbshireRoads) September 6, 2018
"The need to close this route for such a significant time, clearly an inconvenience to locals and visitors to the area, highlights how important some of our bridges are for the connectivity of the area.
"The drivers of large and heavy vehicles should be aware of the potential for damage to our historic bridges and choose their routes accordingly. In recent months we've been aware of large vehicles carrying loads such as static caravans and even a military tank over the Spittal Burn Bridge."