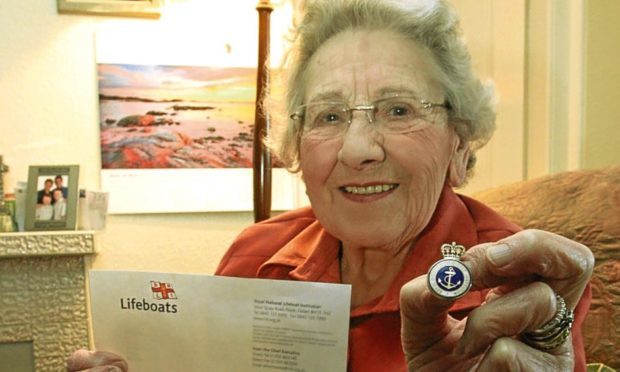 The community spirit which was the watchword of an Angus woman who raised around half a million pounds for local charities is to live on in an award set up in her memory.
Kirriemuir Community Council has launched the Annie Milne Community Award which will recognise the endeavours of an individual who has demonstrated a sense of pride for the local community demonstrated by Annie, who died last year at the age of 98.
She was a leading light in her home town, setting up the local RNLI branch in 1954.
Her dedication to the charity saw her receive the organisation's silver badge in 1983, a gold badge in 1995 and an Honorary Life Governorship in 2007, the highest honour the charity awards to its volunteer fundraisers.
Annie was also heavily involved in numerous committees in the town, serving as secretary, treasurer or president.
These included Scout and Guide parent committees, Royal National Mission to Deep Sea Fishermen, badminton club, Red Cross, town twinning, gardening association, floral art club, Inner Wheel, Townswomen's Guild, Meals on Wheels, Cancer Relief and Kirriemuir Splash.
In 1997, Annie was awarded the Round Table National Community Service Award and travelled to London for the presentation.
It is this staunch sense of community spirit which will be recognised in the inaugural award which will be presented in December.
Jenni Brown, community council chairman, said: "Kirrie has a very vibrant community spirit, there are so many amazing things going on.
"Every day, we hear of extraordinary achievements being recognised and with the help of social media, we are more aware of some that happen on our own doorstep.
"With the sad passing of Annie, who was involved in all aspects of the community, we thought we could further celebrate her life in a truly fitting way.
"With the kind permission of her family we are launching The Annie Milne Community Award."
Annie's daughter Helen and son Bill have welcomed the fitting tribute to their mother.
They said: "We are thrilled the community council are launching this award in mum's name.
"She worked so hard over seven decades for a variety of committees and causes within the area – often in the kitchen making coffee.
"She would be delighted community involvement continues to be encouraged in Kirrie.  We feel this is a very fitting way to celebrate her life."
The council is now seeking nominations for people who have done something in the community and deserves this worthy recognition.
Nominations could be for service to the community, sporting or other outstanding achievements, or for showing courage in the face of extreme misfortune or illness.
Nomination forms are available from kirriemuircommunity@gmail.com, from Kirriemuir Library, Museum or from Kirrie Connections.
The closing date is October 31.