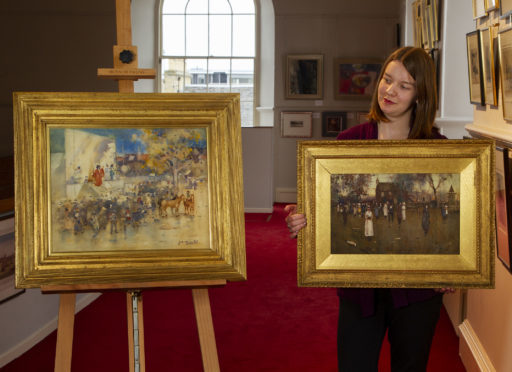 A remarkable collection of artwork from the late 19th and early 20th centuries once housed in a former Angus manse is to be auctioned in what is described as one of the most exciting sales of 2018.
Included in the sale is an outstanding collection of watercolours and oils by renowned Forfar artist James Watterston Herald, and a rare bronze figure of St George and the Dragon by Gilbert Bayes, thought to be one of only three in existence.
Lyon & Turnbull will present 'The Contents of Kirkton House' sale at its Edinburgh auction house on Wednesday.
The owners have now sold their home, built in 1804 as a manse for the nearby Craig Church on the outskirts of Montrose, and have decided it is time for the artworks  to be enjoyed by other collectors.
The history and landscape of Angus is represented in the collection, amassed over several decades, with an outstanding group of watercolours and oils by Watterston Herald revealing views of Montrose, Arbroath, Forfar and Aberdeen.
John Mackie, Director at Lyon & Turnbull said: "The house contains a remarkable collection which demonstrates the owner's interest in predominately British art, but more especially the art and design of the late 19th and early 20th centuries.
"The collection follows the arc of 19th century design history and includes works representative of the Gothic Revival, Aestheticism and the Arts & Crafts.
"Many of the works have been purchased in London from leading establishments such as The Fine Art Society, The Royal Exchange Gallery and renowned Arts & Crafts dealer Paul Reeves."
The sale includes an important collection of etchings, including Gerald Leslie Brockhurst's print masterpiece Adolescence valued at £8,000 to 12,000.
All the important British etchers are represented from Whistler and Griggs to D.Y. Cameron and James McBey, from Samuel Palmer and Robin Tanner to Dame Laura Knight and Charles Nevinson.
Most were bought whilst the owners were living in London.
One of the highlights is the rare Bayes' bronze figure of St George and the Dragon, valued at £12,000-18,000.
Other important bronzes include The Sluggard valued at £20,000-30,000, by Frederic, Lord Leighton, and important renders by Sir Alfred Gilbert and Hamo Thornycroft.
There is a collection of Arts and Crafts ceramics, started when the owners were living in Gloucestershire, more than 30 pieces of Pilkington's Lancastrian lustre pottery, ruby-lustre chargers by William De Morgan and a group of vessels by Sir Edmund Elton.
Works from the Arts & Crafts movement feature in other areas, notably a spectacular piano by Charles Robert Ashbee valued at £8,000 to 12,000; copper and brass light fittings by W.A.S. Benson and textiles by Morris & Co.
Adorning the walls of the house was a collection of 19th and 20th century British art featuring a charming harbour scene by George Leslie Hunter, an unusual Edward Arthur Walton still-life and a dramatic portrait by Sir Gerald Kelly of his wife Jane.
The owners said: "We have enjoyed living with every single item in the house, each of which has been chosen very carefully over the years for a certain room or place.
"As you get older you realise you are merely custodians for a short time and we have decided to sell it to make our lives much simpler.
"Our hope is they give the next owners as much pleasure as they have given us over the years."
The sale takes place at Lyon & Turnbull's auction house at 33 Broughton Place, Edinburgh at 10am on Wednesday.
Viewing takes place on Saturday and Sunday 12 to 4pm, Monday and Tuesday 10am to 5pm and on the morning of the sale from 9am.
Further details from www.lyonandturnbull.com