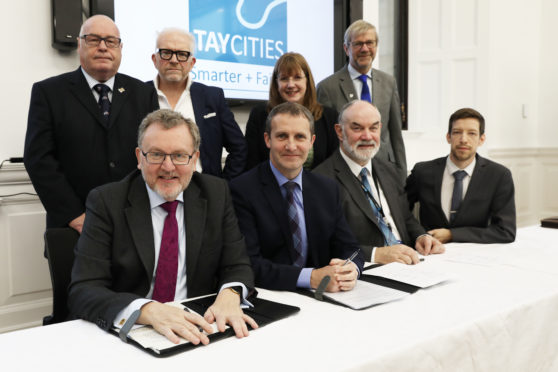 Hopefully, on a day not too far down the line, we will be able to look back to late 2018 and realise it was indeed a historic time for Angus.
In the aftermath of the Heads of Terms document signing for the £700 million job-creating, infrastructure-building Tay Cities Deal however, it was difficult to muster a sense of genuine excitement that the county is truly on the threshold of something transformational.
For two main reasons.
Firstly, from an Angus perspective, there simply wasn't much mention of the rural partner within the detail delivered from the top table of Perth Civic Hall.
Of course we understand much footering and finessing will follow – and must follow quickly to open the tap on the promised funds.
But the release of land at Condor apart, there seemed little high quality meat on any of the Angus bones – no word at all of the fanfared food hub or named county locations, unlike other specified Dundee and Perthshire projects.
Part of the explanation for that may lie in the second reason.
Ellis Watson, chairman of the Tay Cities Enterprise Executive pulled no punches in highlighting the "horrific inefficiency" in hauling the deal to the Heads of Terms stage.
He implored Holyrood and Westminster to "leave their guns at the door" and the three council partners to "ignore boundary lines and just think about what's in the best interest of the whole community."
It's not the first time a plea of similar sorts has been made within these column inches in the context of the warring factions around the table of Forfar's Town and County Hall, with residents and the reputation of Angus invariably suffering the collateral damage of pea-shooter politics.
I'm also not naïve enough to think Dundee and Perth's Tay Cities talks will have been completely cosy coffee-and-cake chats.
But neither am I aware of controversies such as those which have already dogged Angus participation in this process.
And while there's neither space nor inclination to step into the sordid business of another significant Angus Council story which dominated Tay Cities Deal week, it's hard to have complete confidence those boundary lines will disappear when even the moral compass of some seems to have been skewed by political polarity.
As Mr Watson said, everyone has to raise their game.