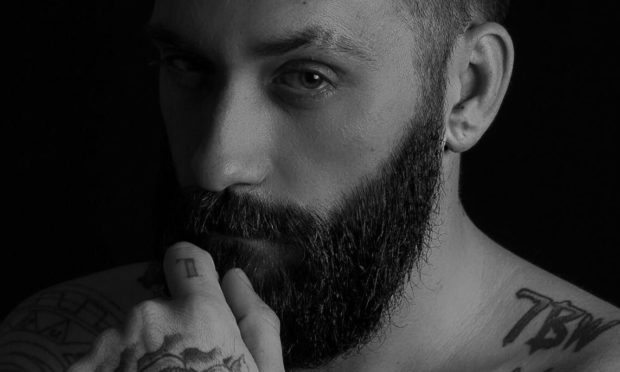 Former American bounty hunter Christian Matlock has set up a not-for-profit beard, hair and skin oil business in his home town of Brechin which he hopes will "give something back" to the community.
The 30-year-old, who launched an appeal to help the homeless and needy in the run up to Christmas 2017, said he hoped to establish a sponsorship scheme to support anything from local sports groups and bands to events and models in Tayside.
Christian, who gained worldwide TV exposure as The Scottish Bounty Hunter, became an unlikely media star when the programme portrayed him as the 'bad boy' from Brechin.
He cited his chaotic early life in Angus for giving him the skills to do the dangerous job he had been doing – hunting and apprehending fugitives who had skipped bail in his adopted homeland in the north east USA.
However, having become a father and having moved back to Scotland in 2017 with the US bail bond industry "taking a dive and on the brink of not existing", he hopes he can build on some beard modelling experience he gained in the USA to make the company a success.
"The company is called Northern Ground and we are a not for profit beard hair and skin oil business now based in Brechin," he said.
"It started because I couldn't get my beard oil from the United States anywhere in Scotland and from experience local companies' oil in Tayside/Angus doesn't smell the greatest so I decided to make my own.
"After spending some time working for grooming companies in the United States I understand well what goes into making the perfect blend for hair.
"I spent around six months making different scent combinations to get that where I wanted it to be also."
With positive feedback on the scent from his own beard, Christian, who still harbours ambitions to become a police officer, said it was only relatively recently that he decided to mass produce and acquired all of the necessary certificates to craft it himself and sell the oil. It went into production in late September.
He added: "Since I've been home I've been thinking up new ways of giving back to the community starting with the homeless drive we did last Christmas which got me thinking –  why can't I create this amazing beard and hair oil which will hopefully get men to take better care of their beards and at the same time use all of my profits and start a sponsorship program?
"So what we are now doing is looking for talented individuals and groups – anything from local sports to bands and events and models in Angus and Tayside – and using our profits from the beard oil business and sponsoring them."
Products are currently only available through First Class barbers, Montrose, and City Gents in Brechin, as well as online via www.northernground.co.uk or Facebook @NorthernGroundLTd