A Tayside man was confronted by one of the most venomous spiders in the world "inches" from his face while working at his Tealing home.
John Blain was taking advantage of the Christmas holidays to refurbish his "beautiful" 1965 Ford Mustang – imported from San Jose, California, in March 2018 – in one of his sheds on Wednesday, January 2.
While working on the classic muscle car's back brakes he noticed a "shiny black" spider in the wheel arch. Being used to spiders in his shed, he continued working on the car with the arachnid "about an-inch-and-a-half" from his face.
Out of curiosity while ordering parts later in the day, he searched the internet for information on Californian spiders, only to discover the creepy-crawly matched the description of a black widow.
Two live arachnids, both later confirmed to be of the species, were taken away in a container along with an egg nest or 'sac', also believed to be a black widow's, after he alerted the Scottish SPCA.
The Mustang was originally brought to Scotland from San Jose by a man in Aberdeen, who sold it to Mr Blain in the autumn.
The 47-year-old, who runs a plumbing and joinery business with his brother, believes the spiders had been living on the vehicle since it was imported to the country from the US.
Mr Blain said: "I am planning on doing the car up. To be honest you see spiders in the sheds anyway. I was doing the back brakes on it on Wednesday and the spider was only about an inch and a half off my face.
"It had been there for hours. It could obviously have had a wee bite I suppose.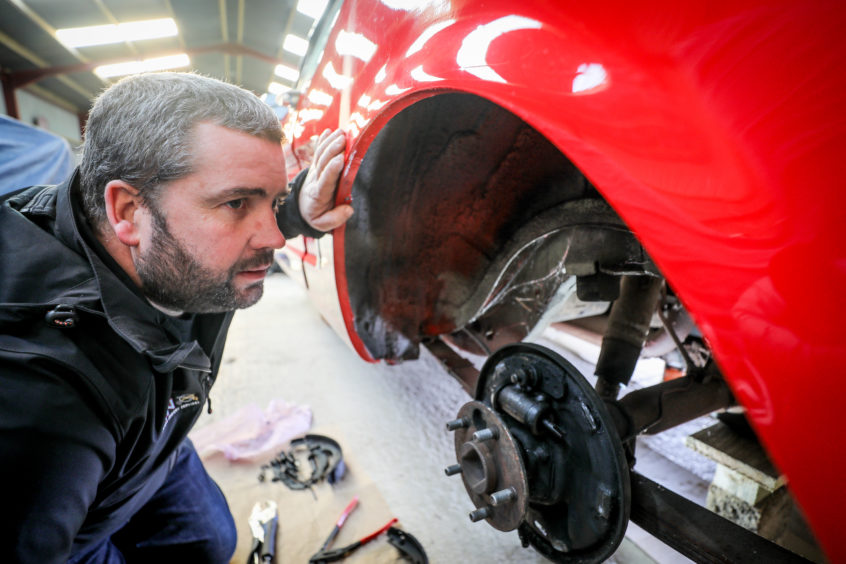 "I had a good look at it. I don't know why I did it but I was ordering parts on the internet and searched 'spiders in California'. It was a black widow.
"Obviously the spiders have been on the car since they came over from America and they have managed to live through the winter we have had.
"It was almost a shiny black. It wasn't scary-looking to me, it wasn't the size of a tarantula. It is meant to be 15 times more deadly than a rattlesnake in America."
He ended up trapping the two spiders himself for the Scottish SPCA to take away.
He admitted he was slightly surprised the  arachnids were able to enter the UK on the vehicle.
"There are that many places anything could hide in a car like that.," he said.
"To be honest it doesn't bother me. If it was a snake, that's different."
Scottish SPCA chief superintendent Mike Flynn said: "We can confirm we were alerted to two possible black widow spiders in Angus after they seemingly came into the country by hiding out in an imported car from America.
"Bites from the black widow can be dangerous to humans and can cause severe muscle pain and muscle spasms.
"As non-native species pose a risk of disease they can seriously impact native animals and humans and due to the potential health and safety concerns, the spiders were put to sleep by a vet."
One of America's most venomous arachnids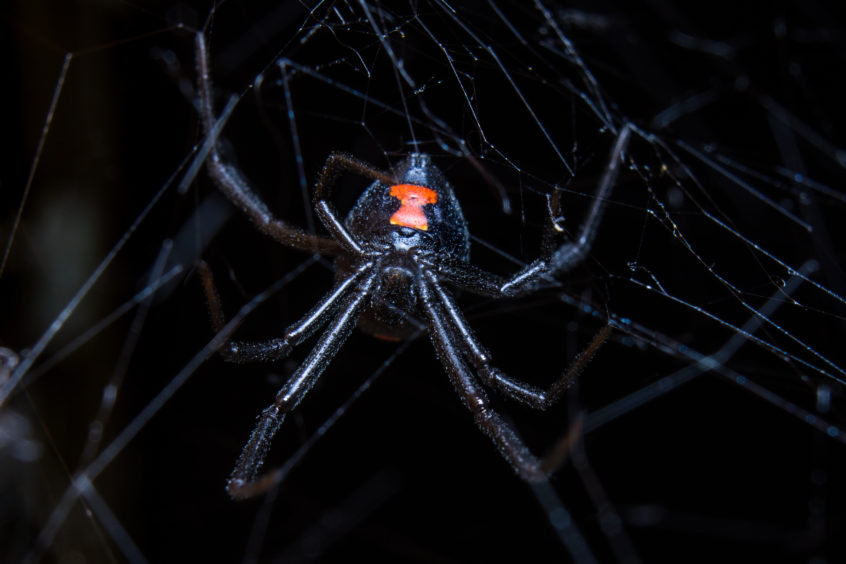 In California, black widows – one of America's most venomous arachnids – are found from deserts to snowy hilltops. They commonly seek shelter in homes, barns, outbuildings and rocky walls.
The arachnids are characteristically timid and females only tend to bite if guarding their eggs, or when accidentally pressed against or pinched.
Bites from the particularly venomous female black widow, though rare, can lead to a number of symptoms including intense pain, sweating, muscle cramps, agitation, fever or patchy paralysis.
The effects of a bite are not usually felt until hours afterwards.
Deaths as a result of black widow bites are extremely rare and occur mostly in the elderly or very young.
Anyone bitten by a black widow is urged to seek medical attention immediately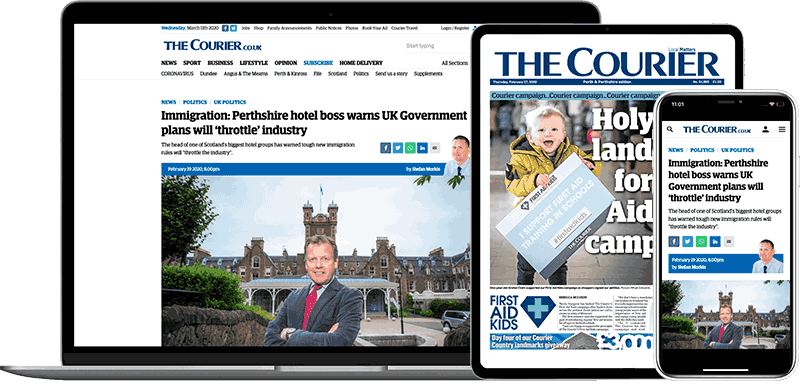 Help support quality local journalism … become a digital subscriber to The Courier
For as little as £5.99 a month you can access all of our content, including Premium articles.
Subscribe