Major repairs will be needed to Arbroath Harbour after a large section of the wall collapsed into the sea.
The zone at Ballast Quay is now cordoned off to the public and Angus Council bosses are warning the cost of fixing the damage will run into hundreds of thousands of pounds.
The problem was reported around 5.30am on Monday after local fishermen arrived to prepare their boats for the day.
They were still at the scene late into the afternoon on Monday, moving remaining creels to safety amid concerns that other parts of the wall may collapse.
An Angus Council spokesman said: "We received reports of a collapse to the Ballast Quay at 5.30am on Monday.
"An inspection at first light established that the wall on the inside of the outer harbour had subsided, resulting in a loss of around one-third the width of the quay.
"No one was injured and no losses of the creels that are stored on the Ballast Quay have been noted.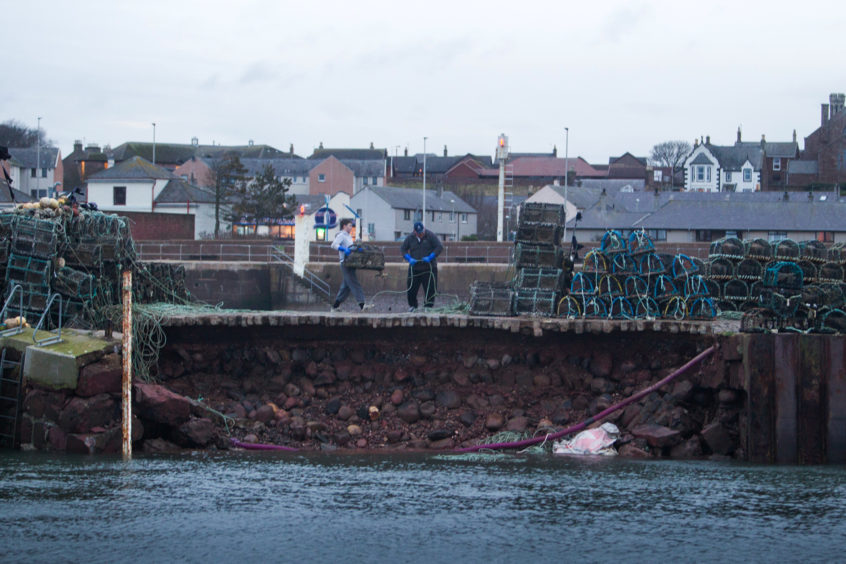 "The quay has been cordoned off and further inspections are planned in coming days to assess the impact of tides, the condition of the wall and quay, and the remedial works required."
In a letter to councillors on Monday, Walter Scott, of the council's infrastructure services department, warned significant repairs would be necessary.
He said: "A further inspection was undertaken at high tide at 2pm. As anticipated, the tide and wave action are washing out the fill material behind the collapsed wall. The void is extended to almost half way across the quay's width.
"Further inspections are planned in coming days to assess the impact of tides and the condition of the wall and quay. The creels stored on Ballast Quay will be relocated in the next few days."
Mr Scott said the plan was to install rock armour later this week.
"These urgent remedial works would seek to protect the quay from further damage, and allow for the design and commissioning of a permanent replacement wall and quay repair," he said.
"There are no viable alternatives if safe navigation is to be maintained at Arbroath Harbour as the Ballast Quay provides vital protection to the navigation channel into the outer harbour."
He said he was working on costings with colleagues but added: "I must forewarn you that the cost will be in the hundreds of thousands of pounds."
Arbroath East and Lunan SNP councillor Brenda Durno said she was glad nobody had been injured but added: "We really don't need this at a difficult financial time.
"I am continuing to speak to harbour staff."
In 2014 a huge chunk of the inner harbour wall surrounding MacKay's Boatyard was destroyed after heavy wind and rain caused the North Sea to breach the site's perimeter.
In 2008 mountainous waves also smashed part of a harbour wall near the visitor centre and hundreds of crab and lobster creels stored on the quayside were swept into the water.