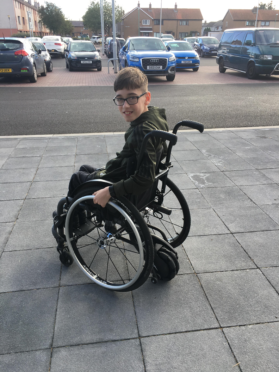 An Angus teenager has been given a life-changing boost, thanks to the gift of a wheelchair power pack.
The device, co-funded by a children's charity, has offered new independence to Montrose youngster Riley Murray who has diplegic cerebral palsy.
Trudy Murray, Riley's mother, said it had opened up a whole new world of opportunities.
"Like any other 13-year-old boy, Riley wants to be able to enjoy time with his friends and experience the freedom to enjoy a typical teenager's life," she said.
"The NHS provided a powered wheelchair, which is great, but a simple trip to the cinema or even going to the local shop aren't possible using the powered wheelchair.
"Plus, it doesn't fit in the car so whenever we travel we can't use it."
Riley is very able cognitively but struggles to push himself any distance in his manual wheelchair, so he needs someone to help him, which means his family have to be with him at all times.
The Murrays considered a motorised manual wheelchair but soon realised that wasn't the answer.
A wheelchair powerpack, which is a set of battery powered wheels that can be attached to most standard manual wheelchairs, fitted the bill — but they cost £4,800.
That's when Children Today and another anonymous donor organisation stepped in.
"I can't put into words how truly life-changing this equipment has been for Riley," said Trudy.
"It's given him a newfound freedom that's he's never experienced before.
"We like to go camping too, so the new power pack will enable Riley to join us on rough terrain and enjoy our camping trips even more."
Riley, who is a twin, was affected by twin-to-twin transfusion syndrome (TTTS), a condition that can occur in identical twin pregnancies when a placenta is shared.
If the blood doesn't flow evenly between the twins, one receives more blood and therefore nutrients, causing developmental problems.
Sadly, Riley's twin brother Brodie died at just 11-weeks old.
Children Today provides funding for specialised equipment for children and young people with disabilities under the age of 25 across the UK.
The charity welcomes applications for funding for specialised equipment and also accepts donations via its website: www.childrentoday.org.uk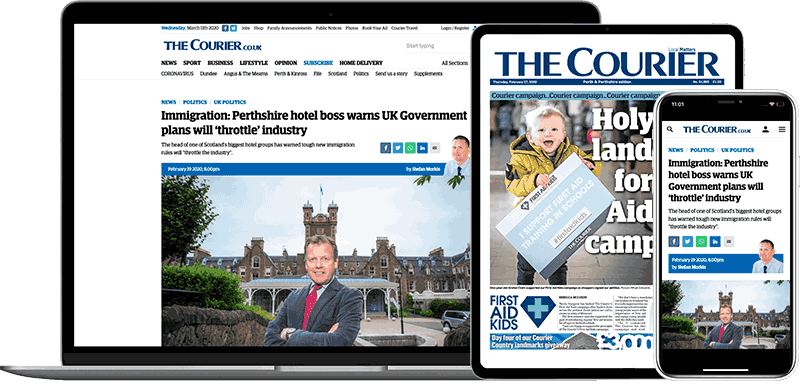 Help support quality local journalism … become a digital subscriber to The Courier
For as little as £5.99 a month you can access all of our content, including Premium articles.
Subscribe