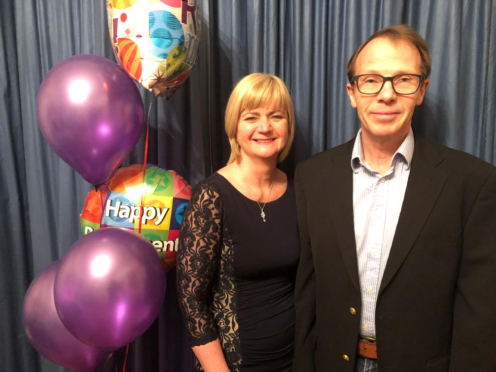 A husband and wife team of doctors who provided health care to four generations of patients at their Forfar practice have retired.
Doctors Guy and Sue Woodroffe hung up their stethoscopes after a combined 44 years of service at the Ravenswood Surgery in New Road.
The couple met while studying medicine at Edinburgh University, with Sue joining a GP training scheme in the capital while Guy did his training between Edinburgh and the borders.
They spent six months in Burnley in England before moving to Forfar in 1989 to join the Ravenswood practice with senior partner Dr Sheila Birse.
Guy, 59, went on to provide health care in the town for 29 years, with Sue retiring after 15 years at the practice after taking time out to raise their three children.
The couple have been overwhelmed with the support they have received from their patients, staff, friends and colleagues.
Sue, 57, said: "The hours we have done have been incredible, it was never nine to five, but it has been very rewarding.
"We have been very lucky we have had a one practice career.
"Over the years we have been associated with a lot of families over four generations.
"That was brought home on my last day when one of the last people I saw was a university student in one of those four generation families. That is what family practice is all about.
Guy added: "We have been very busy, we have done a good stint but it is time to hand it over and move on."
Sue was a regular in the stand at Station Park in her role as club doctor for Forfar Athletic Football Club.
She attended all the home games for 12 years, stopping in 2016, with Guy stepping in as depute when required.
The couple also support a number of organisations in the town including the RNLI, Tangent and the 41 Club.
A keen runner and cyclist, Guy completed the Etape Caledonia cycling event in 2016 raising funds for the Teenage Cancer Trust in memory of Sue's nephew, Cal Ballantine, who died after a 10-month battle against a rare cancer at the age of 19.
The couple now hope to spend more time with their family – their eldest son Rory, 29, is married and runs a small holding in Portugal; their daughter Katherine, 26 ,works as a doctor at Aberdeen Royal Infirmary alongside her husband; and Andrew, 25, a successful triathlete, is head of performance triathlon coaching at the University of Stirling.
In their places Dr Helen Murrie and Dr Andrew Thomson will be joining Dr Nico Grunenberg at Ravenswood Surgery.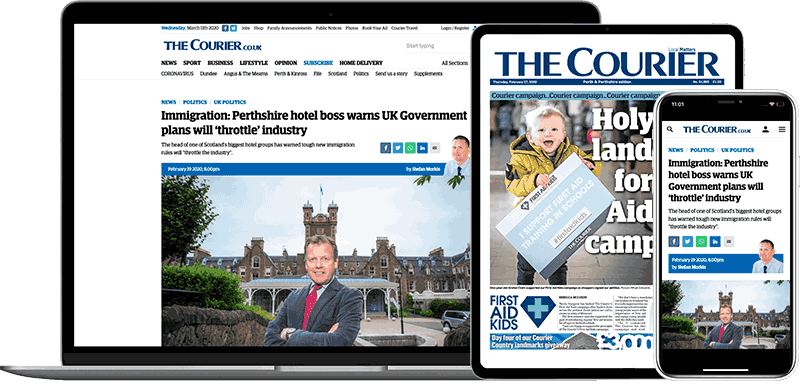 Help support quality local journalism … become a digital subscriber to The Courier
For as little as £5.99 a month you can access all of our content, including Premium articles.
Subscribe