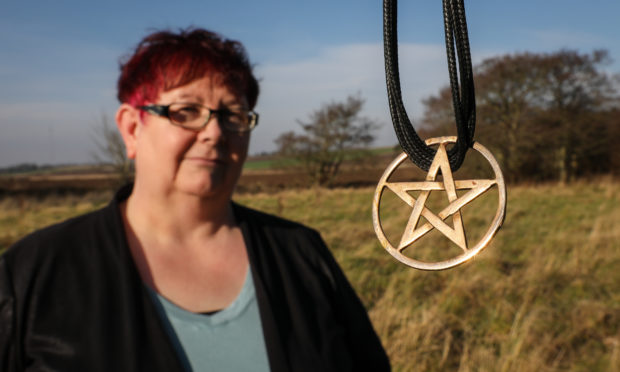 Plans have come forward for a Pagan worship site on part of a farm field in rural Angus.
The slice of land on the edge of Monikie, just north of Dundee, could be used for eight seasonal festivals on the Pagan calendar.
The woman behind the bid has shrugged off suggestions that the idea will bring controversy.
Landowner Jan Steel said the certificate of lawfulness application to Angus Council was aimed at allowing herself and Pagan friends to follow their beliefs in peace and without fear they are "being watched" by others in the Angus village.
Mrs Steel had hoped to build a house on the field, but it sits outwith the Monikie development boundary.
Through her planning agent she has now submitted the temporary use application for "outdoor religious gatherings", but said she felt she had been forced into making the formal planning bid by the authority because of the Pagan link.
"This is a waste of a piece of ground, it has sat for more than 40 years and we wanted to do something with it," she said.
"The reason I felt I had to go for a certificate of lawfulness was that whenever we were on it for anything we felt like we were being watched."
Mrs Steel added: "Folk get a bit iffy when they see something that is not in the norm.
"If they see 10 or 15 people around a bonfire holding hands they get all sorts of ideas.
"If you were to take my belief system completely out of it and I simply met there with my friends for a barbecue would they have insisted on a certificate of lawfulness?"
Supporting information submitted by her planning agent sets out the eight festivals on the Pagan calendar but Mrs Steel said she doubted more than a handful of gatherings would be held during the year.
She said there is a core of Pagan followers in the Tayside and Fife area, but many continue to keep their beliefs private to avoid controversy.
"A lot of Pagan people don't actually come out – it is like you are in the broom cupboard," added Mrs Steel.
"I am quite happy to come out as being Pagan, but there are others who are not and my message would be that anybody is welcome to come along and see how Paganism works.
"It is basically siting around a campfire telling stories but I didn't want there to be a problem with this because we didn't know who might jump out of the bushes.
"I wanted to make sure everything I was doing on a piece of ground I won was above board," said Mrs Steel.
The planning bid has a determination deadline of April 11.
Pagans have no buildings set aside for worship and ceremonies take place in a variety of outdoor locations.
Dunino Den, near St Andrews remains an area linked to the diverse religion.
Pagan Festivals during Wheel of the Year
Pagan worship honouring divine powers celebrate the turning of the seasons and mark the transitions of human life with appropriate rites of passage.
Ceremonies vary considerably but usually begin with the tracing a symbolic boundary around a sacred space which usually takes the form of a circle.
At the quarter points, the four directions and their corresponding elements of earth, air, fire and water will be acknowledged and bid welcome.
Pagan Federation Scotland's own factsheet which was submitted in support of the Angus application says meditation, chanting, music, prayer, dance and symbolic drama are part of the festivals, together with the sharing of food and drink.
Paganism has no buildings dedicated as places of public worship and instead hold ceremonies in woods, on hilltops, along the seashore, by standing stones and in parks, gardens or private homes.
A cycle of eight seasonal Pagan festivals, often known as the Wheel of the Year, begins with the Samhain Festival of the Dead on or near October 31.
It is followed by the winter solstice on December 21 and the Imbolic festival at the beginning of February to celebrate the awakening of earth from winter sleep.
Other key Pagan dates include the festival of Beltane running through the night of April 30 and into the morning of the following day, described as a celebration of sexuality and revelling in the joy of being alive.
Participants leap the Beltane fire and dance around the maypole to celebrate summer's arrival.