An Angus musician who has performed for top names including Harrison Ford and Avril Lavigne is enjoying more musical success with promising sales of her latest composition.
Arbroath based Rebecca Connelly released "Songbird" on Valentine's Day, and says the song is securing "daily online engagement."
Rebecca has already enjoyed success in America, including holding residency in Riviera Resort in Palm Springs, made famous by the Rat Pack.
She also won the best female artist at the So Cal live music competition in Los Angeles before returning home to Scotland in 2013.
She said: "Songbird is available on all the major download sources such as Spotify and Amazon, and although a lot of  CDs have been sold, we will only find out how many times the song has been downloaded after three months, but its certainly looking good.
"A lot has happened since I came back to Scotland.
"I completed a degree in music from the UHI in Perth, where I also met my husband, and we have also founded a music tuition centre, called Red Rock Music, which has six tutors as well as my husband and I.
"The centre offers tuition in a range of disciplines from singing and drums to bass guitar and ukulele, and our mission is to be actively engaged with music in as many ways as possible, and that includes hosting and taking part in live performances, community projects and workshops."
Rebecca is also in discussions to go on a tour of Scotland later this, as well as returning to America in 2020 to tour and perform in Nashville.
Other upcoming projects include a slot at Perthshire's Amber Festival led by Dougie MacLean, and support act for Fife-based musicians the Coaltown Daisies.
"I'm really good friends with the Coaltown Daisies and I was delighted to be asked to perform as a support act for them, and I'm really looking forward to it."
The singer says she has very broad musical influences and takes strength from strong female musicians such as Lady Ga Ga, but draws inspiration from day-to-life and her songs sometimes reflect on what is happening in her own life.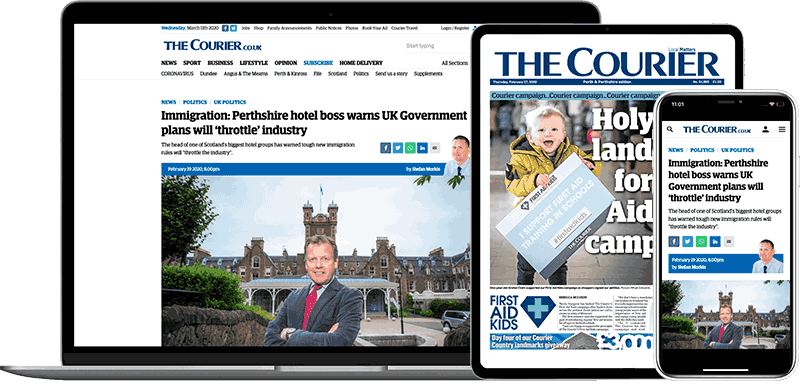 Help support quality local journalism … become a digital subscriber to The Courier
For as little as £5.99 a month you can access all of our content, including Premium articles.
Subscribe